$50,500 Donated at Charity Partnership Breakfast
25-April, 2013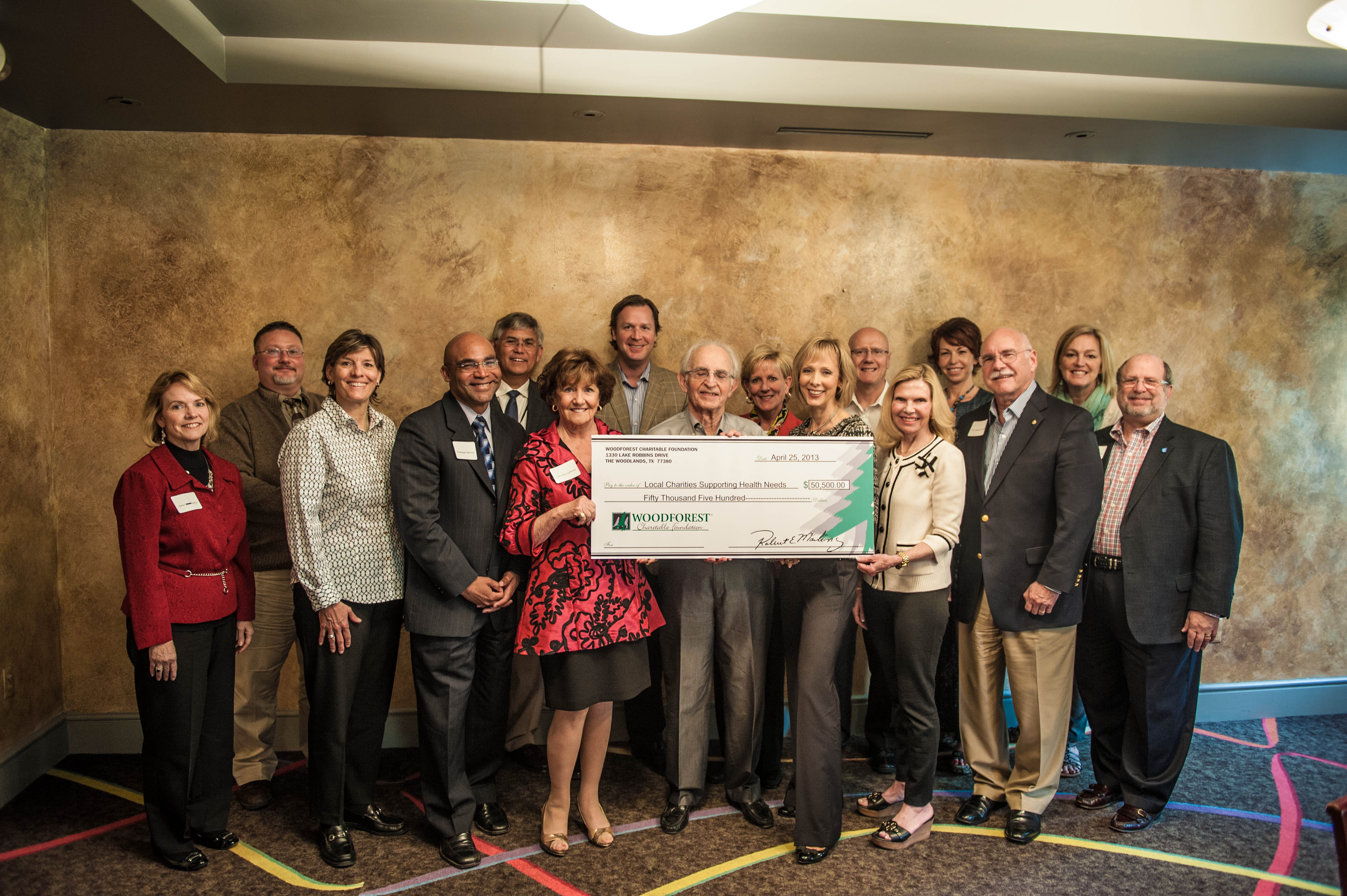 ---
The Woodlands, TX (April 25, 2013) Woodforest Charitable Foundation has recently donated $50,500 to several charities that are dedicated to health services. During a "Charity Partnership Breakfast" hosted by the Woodforest Charitable Foundation at Amerigo's Grille in The Woodlands, the charities included Children's Miracle Network, Interfaith Community Clinic, Life Beyond Cancer, Lone Star Family Health Center, Panther Creek Inspiration Ranch, The Rose, and TOMAGWA.
"It was an honor to present our support for these organizations at our recent Charity Partnership Breakfast," said Kim Marling, Executive Director and Vice President of Woodforest Charitable Foundation. "Each of these deserving charities and their volunteers work hard to provide quality health services for the underserved citizens in our community."
Charity representatives collectively received $50,500 from David Gottlieb, Board Member, Woodforest Charitable Foundation; Shelly Lynch, Director of Operations, Woodforest Charitable Foundation, and Kim Marling, Vice President & Executive Director, Woodforest Charitable Foundation. Representatives in attendance were Dr. Ann Snyder and Dr. Jack Lesch of Interfaith Community Clinic; Dr. Lloyd Everson and Dr. Armin Weinberg of Life Beyond Cancer; Dorothy Gibbons and Domingo Barrios of The Rose; Steven Lightfoot and Tami Sabey of TOMAGWA; Sondra Himmer and MG Tindall of Panther Creek Inspiration Ranch; Jennifer Smart of Children's Miracle Network; Gary Louie and Josh Jones of Lone Star Family Health Center.
Woodforest Charitable Foundation's mission is to demonstrate a legacy of commitment to those in need, enriching lives and communities through dedicated leadership and faithful administration by providing funding to qualifying 501(c)(3) charities. Woodforest Charitable Foundation was created by Woodforest National Bank (WNB) in 2005 as a direct result of its desire to support and invest in the communities in which it serves.
For additional information regarding Woodforest Charitable Foundation, call (832) 375-CARE (2273) or visit the foundation's website at www.woodforestcharitablefoundation.org.