2016 Connoisseurs for Charity Fundraiser
25-September, 2016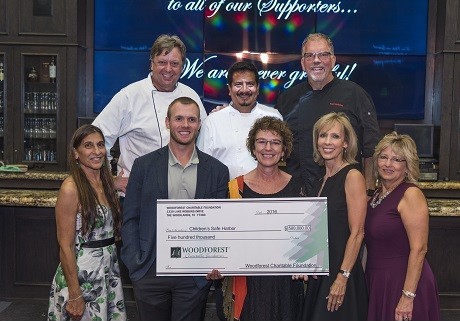 ---
THE WOODLANDS, TX (Oct. 13, 2016) It was an evening of epicurean delights as five celebrity chefs partnered with Woodforest Charitable Foundation to present the 9th annual Connoisseurs for Charity event on September 25. Nearly 200 generous and caring guests filled the Woodforest Golf Club to enjoy the culinary and wine extravaganza fundraiser which presented a $500,000 donation to Children's Safe Harbor and will also benefit 11 additional charities.
The evening's delectable courses were prepared by gourmet chefs who each have earned accolades that rank among the highest in the culinary world. Chef Charles Clark of Ibiza Food & Wine Bar began enticing taste buds by serving the first course of spiny lobster mezzalune with asparagus and smoked ricotta, pared with The Dunlavy Cuvee Chardonnay – Spain 2013. Chef Kent Rathbun – Iron Chef America Winner presented a delicious second course of cedar salmon with truffle parsnip puree, pared with Cambria Clone 4 Chardonnay 2014. Chef Bryan Caswell of REEF furthered the culinary experience with a third course of roasted snapper with grilled squash and buttered radishes with champagne nage, paired with Bergstrom Pinot Noir. Chef Arturo Osorio of Amerigo's Grille savored palates with a fourth course of beef short ribs slow cooked in red wine reduction with fingerling potatoes and gremolata, pared with 2009 Ballentine Vineyards Merlot, Napa Valley, Estate Grown. Chef Mark Cox of MARK'S American Cuisine finished the tasty evening with warm chocolate cake with toasted meringue forelle pear with berries and caramel sauce, complemented by Kopke 10 Year Old Tawny Port.
In addition to the evening's pre-selected highlighted charity Children's Safe Harbor which was chosen to receive a significant donation, guests were given the opportunity to direct the purchase price of their ticket to one of the eleven pre-selected charities which included Angel Reach, Boys & Girls Country, CASA Children's Advocates, Crisis Assistance Center, Family Promise of Montgomery County, Interfaith of The Woodlands, Meals On Wheels Montgomery County, Montgomery County Food Bank, Montgomery County Women's Shelter, Montgomery County Youth Services, and TOMAGWA Healthcare Ministries. Those charities will receive a combined amount of $85,000 from the event.
Through the Connoisseurs of Charity events, of which Woodforest National Bank and the chefs have provided in-kind donations of time, money and culinary ingredients to cover the expenses of the dinner, Woodforest Charitable Foundation has provided support to 43 charities in Montgomery and Harris Counties with donations in excess of $2,500,000. Since its creation in 2005 by Woodforest National Bank through its desire to support and invest in the communities in which it serves, Woodforest Charitable Foundation has provided over $8 million in donations nationwide throughout the communities in the 17 states served by the bank.
"Our community is blessed to have such incredible partnership and stewardship through the Woodforest Charitable Foundation," said Victoria Constance, Ph.D., Executive Director of Children's Safe Harbor. "It takes the power of collaboration to impact and change the life of an innocent child who has suffered abuse. The more we talk and share our commitment to healing and justice for children, the greater our foundation for our individual families and our community at large. We are so very excited for this tremendous $500,000.00 gift to our children's advocacy center. We met new friends and celebrated long-term partnerships over a fabulous dinner that was creative and delicious!"
Kim Marling, Executive Vice President of Woodforest Charitable Foundation, added, "For nine years the Foundation has been blessed with an incredible partnership with this amazing group of extremely talented and highly accomplished chefs. Among their many honors you will find are the Ivy Award, Best Chef nominee for James Beard Foundation, and three Iron Chef America contenders and the list goes on. They are each impressive, kind-hearted and passionate about our charitable endeavors. I am forever grateful to each of them and to Casey and Nancy Kosh of Amerigo's Grille for their partnership with us and this event."
She continued, "We are also deeply grateful for the many guests who have continued to support the Foundation over the last nine years of our CFC events. In particular, we are proud to donate 100% of the evening's proceeds along with an additional contribution by the Foundation to Children's Safe Harbor as they work to address the enormous tragedy of physical and sexual abuse that faces many innocent children and youth within our county. Dr. Constance and her team support, defend and prosecute on the behalf of the victim every day, and they are helping these children begin the process of healing that will last a lifetime."
Elected officials in attendance included U.S. Congressman Kevin Brady, former Texas Senator Tommy Williams, and Montgomery County Judge Craig Doyal. Guests who have attended the chef event for each of the past nine years include Tad and Janis Brown, Ralph and Gayelene McIngvale, Mike Gatewood, Rocky and Helen Del Papa, Dr. Cobb, and Jim and Nelda Blair.
Adding to the evening's excitement was a raffle for a Special Edition 300 SL "Mille Miglia 417" roadster sports car from Mercedes-Benz of The Woodlands which was donated by Woodforest National Bank and won by the very lucky Nelda Blair.
The Foundation is creating a legacy of commitment to those in need, enriching lives and communities through dedicated leadership and faithful administration by providing funding to qualifying 501(c)(3) charities. For additional information, call (832) 375-CARE (2273) or visit the foundation's website at www.WoodforestCharitableFoundation.org.