Woodforest Charitable Foundation Contributes $5,000 to The Community Clinic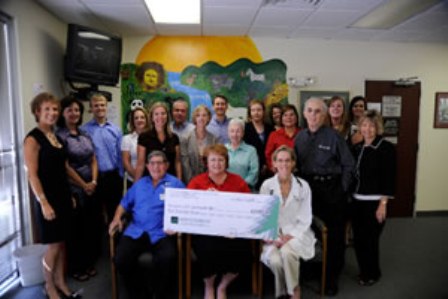 ---
The Woodlands , TX – The Community Clinic, which is a privately funded, non-profit health care center that provides free medical, dental, social services and mental health counseling to the working poor and to those who are uninsured and on a limited income, recently received a $5,000 contribution from Woodforest Charitable Foundation.
Rebecca C. Jones, Executive Director of The Community Clinic, said, "The Community Clinic provides care to the uninsured working poor population in our community and is dependent on volunteers and financial support from the community. We provide over 12,000 services to the community on a budget of less than $850,000 and every penny that we can receive helps us provide this care. The Woodforest Charitable Foundation's donation is very helpful to the Clinic for general operating costs and as we have continued to grow since 1996 to meet the increasing needs of the community. Woodforest Charitable Foundation is a great partner and truly cares about our clients and the services that we provide."
Kim Marling, Vice President of Woodforest Charitable Foundation, added, "The Community Clinic plays an essential role in our community by treating those who are uninsured. With their expansion of services, a full time doctor and a distressed economy, their needs have increased. We are pleased to support such a worthy cause."
Established in 1996 by Dr. Joel Kerschenbaum, The Community Clinic is staffed by licensed physicians, nurses, dentists, dental assistants, dental hygienists, social workers as well as translators and support people, all who volunteer their time and services. The clinic is located in Oak Ridge North at 101 Pine Manor Drive just behind Pier One. For more information about The Community Clinic, please call (281) 364-7889, send an email to info@communityclinic.net, or visit www.communityclinic.net.
The Woodforest Charitable Foundation was created by Woodforest National Bank in 2005 as a direct result of its desire to support and invest in the communities in which it serves. The Foundation is creating a legacy of commitment to those in need, enriching lives and communities through dedicated leadership and faithful administration by providing funding to qualifying 501(c)(3) charities. For additional information regarding The Woodforest Charitable Foundation, call 832-375-CARE (2273) or visit the foundation's website at www.woodforestcharitablefoundation.org.