Woodforest Charitable Foundation Donates $5,000 to Interfaith for School Supplies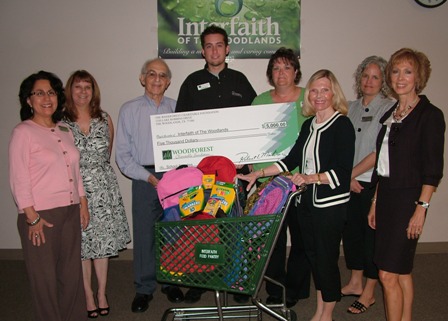 ---
The Woodlands, TX, (Monday, August 17, 2009) — Interfaith of The Woodlands recently received a generous donation of $5,000 from The Woodforest Charitable Foundation to help purchase school supplies and backpacks for the 2009-2010 Interfaith "Back to School Drive".
"The Woodforest Charitable Foundation has been a longtime supporter of Interfaith of The Woodlands," said Kim Marling, Vice President of The Woodforest Charitable Foundation. "Starting the school year with the correct supplies makes a huge difference in a child's first day of school."
The funds will allow Interfaith to give local students complete grade level school supply kits, backpacks, and lunch boxes.
"Interfaith is truly grateful for the donation and appreciate the ongoing partnership with Woodforest Charitable Foundation," shared Dr. Ann Snyder, President and CEO or Interfaith.
More than 1,200 students will receive complete school supplies assistance this year from Interfaith.
For more information about the program, please call 281-367-1230 or view Interfaith of The Woodlands website at www.woodlandsinterfaith.org. For information about the Woodforest Charitable Foundation, view woodforestcharitablefoundation.org or call phone: 832-375-CARE (2273).
.