Connoisseurs for Charity' raises $295k for Woodforest Charitable Foundation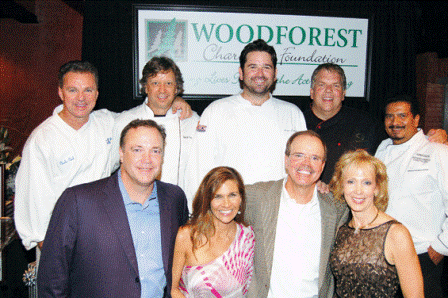 ---
THE WOODLANDS, TX - Once again, generous chefs and guests gathered to experience an unforgettable culinary extravaganza as Woodforest Charitable Foundation closed down Amerigo's Grille in The Woodlands on Sept. 25 to host their 5th annual "Connoisseurs for Charity" fundraising dinner.
A whopping $295,000 was raised through $500 per-seat reservations and an energy-packed live auction emceed by Ralph McIngvale, and with the cost of the five-star chef dinner and wine parings underwritten by Woodforest National Bank.
Through "Charity Selection" cards at each place setting, guests had the opportunity to direct their contribution to one of the evening's pre-selected non-profits, which included Boys & Girls Country, Children's Safe Harbor, Interfaith Community Clinic, Interfaith of The Woodlands, Montgomery County Food Bank, Montgomery County Homeless Coalition, Montgomery County Women's Center, New Community Alliance (New Danville), and TOMAGWA (Tomball Clinic).
The featured celebrity chefs included Chef Kent Rathbun of Jasper's and Abacus, Chef Arturo Osorio of Amerigo's Grille, Chef Mark Cox of Mark's American Cuisine, Chef Bryan Caswell of Reef, and Chef Charles Clark of Ibiza Food & Wine Bar.
The 138 guests were tantalized by the presentations of five delicious courses each personally created by one of the famous chefs and paired with a fine wine, presenting an amazing culinary extravaganza. The stellar team of top-ranked celebrity chefs in the state and country representing fine restaurants from the Houston and The Woodlands area included:
- Chef Arturo Osorio's first course tantalized taste buds with Roasted Trumpet Royale Mushrooms with Fontina, Fonduta and Sliced Truffles. Paired with Attems – Cicinis Collio Biano, Vintage 2006.
- Chef Charles Clark's second course creation was a scrumptious Seared Kodial Island Halibut with Brown Butter Cipolini, Carmelized Onion Mousse, Shaved Radish, and Pea Succotash. Paired with Spanish Cave Rose Wine.
- Chef Kent Rathbun amazed guests with a delectable (or mouth-watering) Roasted Maple Leaf Duck Breast with Niman Ranch, Bacon and Avacado Port Wine- Shallot Glaze, Creamy Goat Cheese, and Pearl Cous Cous. Matched with Wild Horse Cheval Sauvage Pinot Noir, Santa Maria Valley 2007.
- Chef Bryan Caswell delighted palates with an incredible prepared Roasted Lamb T-Bone with Creamy Lentils and Salsa Verde. Mated with Lemelson Pinot Noir "Thea's Selection" Willamette Valley.
- Chef Mark Cox finished the culinary extravaganza with Dessert "En Surprise" with Autumn Fruit and Chocolate. Complimented with Daniel Schuster Riesling.
The Woodforest Charitable Foundation was established in 2005 with an endowment from Woodforest National Bank for the purpose of enriching communities through partnerships with charitable 501(c)(3) organizations. Currently, the Foundation's contributions exceed $1,800,000 to 140 charities across the country. This year marks the 31th anniversary of Woodforest National Bank and the 6th anniversary of Woodforest Charitable Foundation.
"Together, with the support of caring individuals, we are able to bring help, hope and opportunity to those faced with unfortunate challenges," said Kim Marling, executive director & vice president of Woodforest Charitable Foundation. "We believe that in every community there is work to be done and in every heart there is the power to do it. The Foundation is grateful for the generous donations and continued support of these caring chefs and dinner guests."
For additional information regarding The Woodforest Charitable Foundation, call (832) 375-CARE (2273) or visit woodforestcharitablefoundation.org.