Boy's & Girl's Country recently received $300,000 from Woodforest Charitable Foundation.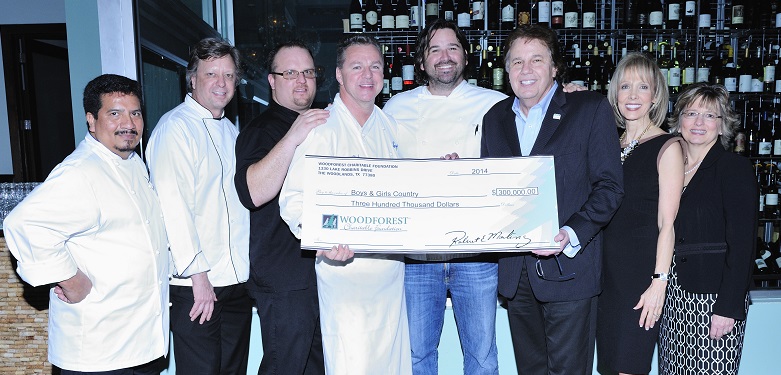 ---
The "Celebrity Chef Extravaganza" was held earlier this year entertaining nearly 100 guests who together had purchased this special auction item at Woodforest Charitable Foundation's 2013 Connoisseurs for Charity fundraising event.
Held at REEF Restaurant in Houston, five highly acclaimed chefs presented an epicurean delight consisting of an exceptional five-course dinner. The celebrity chefs, who each have earned accolades that rank among the highest in the culinary world, included Chef Bryan Caswell of REEF Restaurant, Chef Charles Clark of Ibiza Food & Wine Bar, Chef Mark Cox of MARK'S American Cuisine, Chef Kent Rathbun of JASPER'S, and Chef Arturo Osorio of Amerigo's.
All proceeds from the amount raised from the "Celebrity CHef Extravaganza" auction item benefited Boys and Girls Country to the tune of $300,000, which was presented to the charity's representatives at the dinner party. In addition, the five celebrity chefs each donated a unique, one-of-a-kindchef experience for the children at Boys and Girls Country that evening.
Boys and Girls Country, one of the many charities supported by Woodforest Charitable Foundation, is a nonprofit charity whose mission is to change lives of children from families incrisis by loving and nuturing them in a Christian home environment, raising them to become self-sustainingand contributing adults.
"The Woodforest Charitable Foundation applauds Boys and Girls Country for impacting children's lives in a positive, loving way by teaching them strong morals and values that are vital as they grow into young men and women," said Kim Marling, Executive Director/Vice President Board of Directors, Woodforest Charitable Foundation.