Central Pennsylvania Food Bank receives $5,300 donation from Woodforest Charitable Foundation
21-May, 2013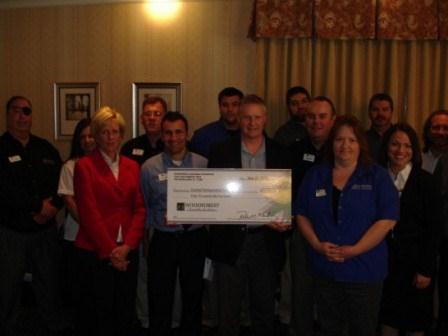 ---
Central Pennsylvania Food Bank
Harrisburg, PA – On a continual basis Woodforest National Bank employees perform a multitude of fundraising events benefitting the Woodforest Charitable Foundation. Both Woodforest National Bank and Woodforest Charitable Foundation are committed to making a positive impact in the communities in which Woodforest serves. This partnership benefits the community and organizations such as Central Pennsylvania Food Bank, which recently received a $5,300 donation from the Woodforest Charitable Foundation.
Central Pennsylvania Food Bank has been dedicated to ending hunger for over 30 years. Executive Director, Joe Arthur and his team fulfill the mission by working in partnership with a network of community agencies that directly serve people who are hungry.

Central Pennsylvania Food Bank was established in 1981, as a one-day demonstration on World Food Day, and has grown into a double warehouse operation with a recent expansion of an additional 28k square feet, allowing the organization to distribute 22 million pounds of food annually. The Food Bank supports several various feeding programs, including their PowerPack program.

The PowerPack program supplies the nutrient-rich food that children need to develop and grow. Statistics show that one in five Pennsylvania children is struggling with hunger. This program allows the children to have food during the summer months when school breakfast and lunch are not available.

For more information on Central Pennsylvania Food Bank, visit www.centralfoodbank.org

Woodforest Charitable Foundation
The Woodforest Charitable Foundation was created by Woodforest National Bank in 2005 as a direct result of its desire to support and invest in the communities in which it serves. The Foundation is committed to assisting those in need, enriching lives and communities through dedicated leadership and faithful administration by providing funding to qualifying 501(c)(3) charities. For additional information regarding the Woodforest Charitable Foundation, call (832) 375-CARE (2273) or visit the foundation's website at www.woodforestcharitablefoundation.org.
Woodforest National Bank
Celebrating 32 years of service and ranked among the top earning banks in the United States, the Woodforest family of banks currently has assets of approximately $3.7 billion and services more than 837,000 customers with branches in excess of 760 throughout seventeen states: Texas, Alabama, Florida, Georgia, Illinois, Indiana, Kentucky, Louisiana, Maryland, Mississippi, New York, North Carolina, Ohio, Pennsylvania, South Carolina, Virginia and West Virginia. For information about Woodforest National Bank, please call 832-375-2000 or visit the bank's website at www.woodforest.com.