Charities receive $251,500 at Woodforest Charity Partnership Luncheon.
25-April, 2013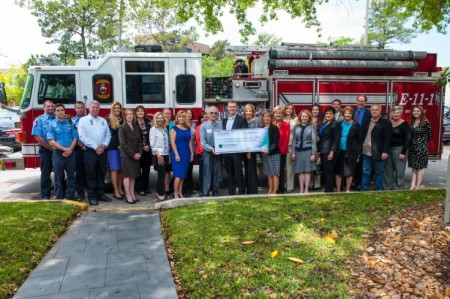 ---
Charity Partnership Luncheon
Montgomery County, TX - On a continual basis Woodforest National Bank employees perform a multitude of fundraising events benefitting the Woodforest Charitable Foundation. Both Woodforest National Bank and Woodforest Charitable Foundation are committed to making a positive impact in the communities in which Woodforest serves.
On Thursday, April 25, 2013, several local charities in the Montgomery County area attended the Woodforest Charitable Foundation, Charity Partnership Luncheon. A total of $251,500 donation was distributed to those in attendance, which included; Emergency Ministries, Houston Food Bank, Family Promise, Interfaith of the Woodlands, Montgomery County Emergency Assistance, Montgomery County Food Bank, Montgomery County Womens Center, Grief Resource Center, North Channel Assistance Ministries and The Friendship Center. Woodforest Charitable Foundation is dedicated to enriching lives through the act of giving and by supporting these charities that assist the needy during times of crisis.
Woodforest Charitable Foundation
The Woodforest Charitable Foundation was created by Woodforest National Bank in 2005 as a direct result of its desire to support and invest in the communities in which it serves. The Foundation is committed to assisting those in need, enriching lives and communities through dedicated leadership and faithful administration by providing funding to qualifying 501(c)(3) charities. For additional information regarding the Woodforest Charitable Foundation, call (832) 375-CARE (2273) or visit the foundation's website at www.woodforestcharitablefoundation.org.
Woodforest National Bank
Celebrating 32 years of service and ranked among the top earning banks in the United States, the Woodforest family of banks currently has assets of approximately $3.7 billion and services more than 837,000 customers with branches in excess of 760 throughout seventeen states: Texas, Alabama, Florida, Georgia, Illinois, Indiana, Kentucky, Louisiana, Maryland, Mississippi, New York, North Carolina, Ohio, Pennsylvania, South Carolina, Virginia and West Virginia. For information about Woodforest National Bank, please call 832-375-2000 or visit the bank's website at www.woodforest.com.