Food Bank of Central & Eastern North Carolina receives $18,575 donation from WCF.
18-April, 2012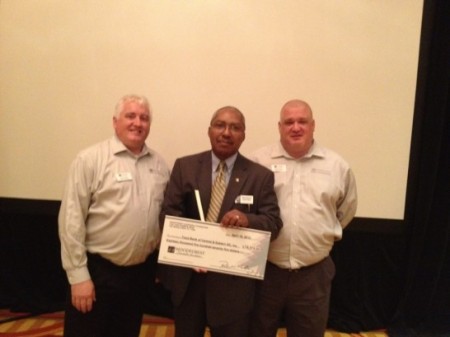 ---
RALEIGH, NC – Food Bank of Central & Eastern North Carolina receives a generous donation of $18,575 from Woodforest Charitable Foundation.
Established in 1980, the Food Bank is a nonprofit organization that has provided food for people at risk of hunger in 34 counties in central and eastern North Carolina. The Food Bank serves a network of more than 800 partner agencies such as soup kitchens, food pantries, shelters, and programs for children and adults through warehouses in Durham, Greenville, New Bern, Raleigh, the Sandhills and Wilmington.
The mission of the Food Bank is to harness and supply resources so that no one goes hungry in central and eastern North Carolina. Sadly, hunger remains a serious problem in central and eastern North Carolina. In these counties, more than 500,000 individuals struggle each day to provide enough food for their families.
"On behalf of everyone here at the Food Bank of Central & Eastern North Carolina, I want to thank the Woodforest Charitable Foundation for the gift, which we received to help fund our Kids Summer Meals Program. We are very grateful for your generous support of this organization's work to fight child hunger in central and eastern North Carolina," said Peter Werbicki, President and CEO of Food Bank of Central & Eastern North Carolina.
More than 300,000 children in the Food Bank's service area are eligible for school-based free of reduce-priced meals. For many, these meals provided at school may be the only food they receive that day. In the evenings, on weekends and during summer vacation, they may not know where or when they will receive their next meal.
Last year, the Kids Meals & More child nutrition programs, which include the after-school Kids Café program, school-based Weekend Power Pack program and summertime Kids Summer Meals program, served more than 5,500 children at risk of hunger.
For more information on Woodforest Charitable Foundation's contributions to this organization, please contact this agency directly at (919)875-0707 or visit www.foodbankcenc.org.
The Woodforest Charitable Foundation was created by Woodforest National Bank in 2005 as a direct result of its desire to support and invest in the communities in which it serves. The Foundation is creating a legacy of commitment to those in need, enriching lives and communities through dedicated leadership and faithful administration by providing funding to qualifying 501(c) (3) charities. For additional information regarding The Woodforest Charitable Foundation, call (832) 375-CARE (2273) or visit the foundation's website at www.woodforestcharitablefoundation.org .
Celebrating 32 years of service and ranked among the top earning banks in the United States, the Woodforest family of banks currently has assets of approximately $3.7 billion and services more than 1 million customers with branches in excess of 780 throughout 17 states: Texas, Alabama, Florida, Georgia, Illinois, Indiana, Kentucky, Louisiana, Maryland, Mississippi, New York, North Carolina, Ohio, Pennsylvania, South Carolina, Virginia and West Virginia. For information about Woodforest National Bank, please call 832-375-2000 or visit the bank's website at www.woodforest.com.