LOCAL BANK GROUP KEEPS CORPORATE PHILANTHROPY STRONG DURING TOUGH ECONOMIC TIMES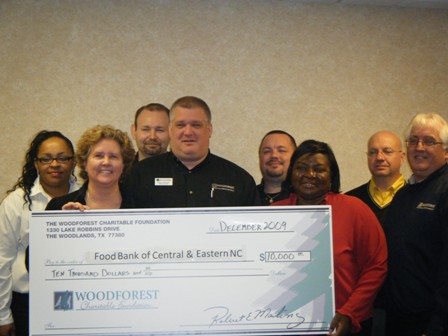 ---
RALEIGH, NC – On behalf of the Woodforest Charitable Foundation, local branch managers of Woodforest National Bank, a part of Woodforest Financial Group Inc. family of companies based out of Texas, made a special presentation to the Food Bank of Central & Eastern North Carolina on Thursday, December 10 at their regional meeting in Goldsboro, North Carolina. The branch managers, representing Woodforest Charitable Foundation, donated $10,000 to support the region's largest food bank with distribution efforts at a time of increased need.
Many of the rescue missions, food pantries, soup kitchens supported by the Food Bank have seen increases of 30 to 60 percent in the last twelve months.
"It is through the efforts of corporate groups like the Woodforest National Bank, Woodforest Charitable Foundation and the many food drives and donations from our generous community that we are able to provide resources for those at risk of hunger," said Peter Werbicki, President and CEO of the Food Bank of Central & Eastern North Carolina. "We are honored that our work is recognized by their organization."
"Many families are facing difficult challenges this year, and there has been a significant increase in the needs of the 'working poor,'" said Kim Marling, Executive Director of Woodforest Charitable Foundation. "We realize that hunger is not exclusive to any single race or neighborhood and there is no particular 'face of hunger.' For this reason, Woodforest supports the Food Bank of Central & Eastern North Carolina in their efforts to provide the most basic of needs: nourishment."
The Food Bank of Central & Eastern North Carolina has seen the demand for their services continue to rise, as have food banks around the country. The Food Bank now has more than 480,000 people at risk of hunger in its service area compared to 450,000 a few years ago.
For every dollar donated, the Food Bank of Central & Eastern North Carolina is able to distribute generally 8 dollars ($8) worth of food or provide four meals.
The main office and warehouse is located at 3808 Tarheel Drive in Raleigh with additional branch warehouses located in Durham, Greenville, Southern Pines, and Wilmington.
To learn more about the Food Bank of Central & Eastern North Carolina, go to www.foodbankcenc.org or call (919) 875-0707.
About the Food Bank of Central & Eastern North Carolina
The Food Bank of Central & Eastern North Carolina is a nonprofit organization that provides food for people at risk of hunger in 34 counties in central and eastern North Carolina. The Food Bank serves a network of nearly 900 partner agencies such as soup kitchens, food pantries, shelters, and programs for children and adults. In fiscal year 2007-2008, the Food Bank distributed nearly 32 million pounds of food and non-food essentials through these agencies. Sadly, hunger remains a serious problem in central and eastern North Carolina. In these counties, more than 450,000 individuals struggle each day to provide enough food for their families. www.foodbankcenc.org.
About Feeding America (Formerly America's Second Harvest – The Nation's Food Bank Network)
Feeding America provides individuals and families facing hunger with the fuel to survive and even thrive. As the nation's largest domestic hunger-relief charity, our network members supply food to more than 25 million Americans each year, including 9 million children and 3 million seniors. Serving the entire United States, more than 200 member food banks operate 63,000 agencies that address hunger through emergency food assistance programs. For more information on how you can fight hunger in your community and across the country, visit www.feedingamerica.org.
The Woodforest Charitable Foundation was created by Woodforest National Bank in 2005 as a direct result of its desire to support and invest in the communities in which it serves. The Foundation is creating a legacy of commitment to those in need, enriching lives and communities through dedicated leadership and faithful administration by providing funding to qualifying 501(c)(3) charities. For additional information regarding The Woodforest Charitable Foundation, call (832) 375-CARE (2273) or visit the foundation's website at www.woodforestcharitablefoundation.org.
Celebrating 30 years of service and ranked among the top earning banks in the United States, the Woodforest family of banks currently has assets of approximately $3.2 billion and services more than 770,000 customers with branches in excess of 700 throughout fifteen states: Texas, Alabama, Illinois, Indiana, Kentucky, Louisiana, Maryland, Mississippi, New York, North Carolina, Ohio, Pennsylvania, South Carolina, Virginia and West Virginia. For information about Woodforest National Bank, please call 832-375-2000 or visit the bank's website at www.woodforest.com.