Woodforest Charitable Foundation donates $3,500 to the Food Bank of Northern Indiana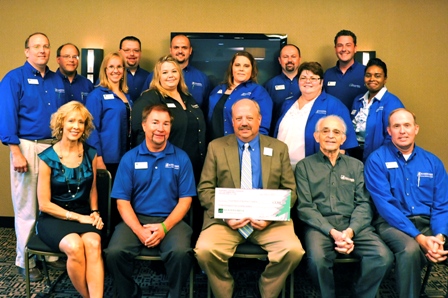 ---
SOUTH BEND, IN – The Food Bank of Northern Indiana receives a $3,500 donation from Woodforest Charitable Foundation in support of their Food 4 Kids Program.
The Food Bank of Northern Indiana is a proud supporter of the Food 4 Kids Program. The purpose of the program is to improve the physical health, mental health, and overall school performance of chronically hungry children through immediate, confidential, and direct assistance. The Food Bank's goal is to ensure that food insecure children regularly receive nutritious, kid-friendly food when they are not in school. Backpacks filled with nutritious food are distributed to children every Friday throughout the duration of the school year. Each bag of food contains 8-12 kid-friendly food items, i.e. pop-top beef stew, chicken or beanie weenies, pudding cup, fruit cup, granola bar, Jell-O, raisins, shelf-stable milk, cereal, etc.
The cost of food, delivery, and distribution is approximately $2.30 per week per child. Woodforest's donation will sponsor 35 children for one academic school year guaranteeing regular weekly deliveries. "Summertime is no vacation for the families that struggle to make limited budgets stretch to cover food, rent/mortgage payments, utilities, medicines and transportation expenses," said Lisa Jaworski, CEO of the Food Bank of Northern Indiana. "We are blessed in having the support of people like you who have chosen to share in the support of our Food 4 Kids Program. Woodforest's gift will help us to alleviate some of the hunger felt by the 81,000 children we serve annually."
The growth of the Food Bank of Northern Indiana network is directly related to the growing number of hungry people in Indiana. The Food Bank remains committed to fighting hunger by providing nutritious food to a network of over 200 non-profit members throughout six counties. The Food Bank of Northern Indiana, established in 1993, is a certified member of Feeding America.
For more information about Food Bank of Northern Indiana's Food 4 Kids Program, please call (574) 232-9986 or visit www.feedindiana.org.
The Woodforest Charitable Foundation was created by Woodforest National Bank in 2005 as a direct result of its desire to support and invest in the communities in which it serves. The Foundation is creating a legacy of commitment to those in need, enriching lives and communities through dedicated leadership and faithful administration by providing funding to qualifying 501(c)(3) charities. For additional information regarding The Woodforest Charitable Foundation, call (832) 375-CARE (2273) or visit the Foundation's website at www.woodforestcharitablefoundation.org.
Celebrating 30 years of service and ranked among the top earning banks in the United States, the Woodforest family of banks currently has assets of approximately $3.2 billion and services more than 850,000 customers with branches in excess of 750 throughout seventeen states: Texas, Alabama, Florida, Georgia, Illinois, Indiana, Kentucky, Louisiana, Maryland, Mississippi, New York, North Carolina, Ohio, Pennsylvania, South Carolina, Virginia and West Virginia. For information about Woodforest National Bank, please call 832-375-2000 or visit the bank's website at www.woodforest.com.