Food Bank of the Southern Tier recieves $395 donation from Woodforest Charitable Foundation.
16-May, 2013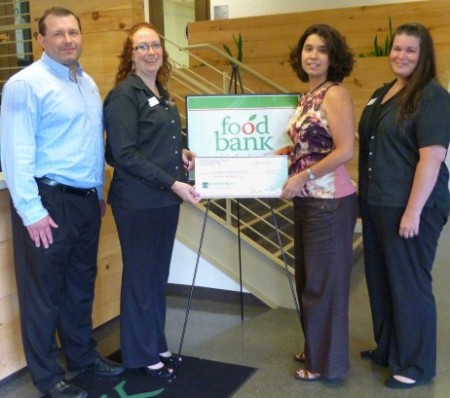 ---
Food Bank of Southern Tier
Southern Tier, NY – The Food Bank of the Southern Tier announces that a $395 donation was received from Woodforest Charitable Foundation and Woodforest National Bank. These funds will be used to support the Food Bank's BackPack Program™ in Chemung County. Woodforest
Charitable Foundation has been a supporter of the Food Bank's BackPack Program™ for the past four years.
"Woodforest Charitable Foundation is committed to partnering with agencies such as the Food Bank of the Southern Tier in the fight to overcome hunger in the communities in which Woodforest National Bank serves," said Shelly Lynch, Woodforest Charitable Foundation Director of Operations. "It is our focus on food banks across the country that has enabled us to afford individuals with the most basic necessity - food. Since 2008 the Foundation has made donations to food banks in excess of $1,740,494," added Lynch.
The Food Bank's BackPack Program™ provides healthy, child-friendly, and easy to prepare foods to children at risk of hunger over weekends and holiday breaks when children do not have access to free or reduced price school meal programs. During the 2011-2012 school year, the program served 26 school districts across the Southern Tier, reaching more than 1,800 children each week.
Each week, over 11,000 individuals visit a hunger-relief member agency served by the Food Bank of the Southern Tier. In 2012, the Food Bank distributed over 7.8 million pounds of food to neighbors in need across the six Southern Tier counties of Broome, Chemung, Schuyler, Steuben, Tioga, and Tompkins.
To learn more about how you can make a difference in the fight against hunger, visit the Food Bank's website at www.foodbankst.org or call 607.796.6061.
ABOUT THE FOOD BANK OF THE SOUTHERN TIER
Established in 1981 and headquartered in Elmira, NY, the Food Bank of the Southern Tier distributes food and other grocery products to people in need through a network of more than 160 member agencies including food pantries, soup kitchens, shelters and other hunger relief organizations in Broome, Chemung, Schuyler, Steuben, Tioga and Tompkins Counties. The Food Bank also administers several direct service food distribution programs including the BackPack Program™ and Mobile Food Pantry. The Food Bank is a member of Feeding America and a regional agency of Catholic Charities of the Diocese of Rochester. The Food Bank helps fulfill Catholic Charities' commitment to create a just and compassionate society rooted in the dignity of all people by working together to build and sustain hunger free communities throughout the Southern Tier.
ABOUT WOODFOREST CHARITABLE FOUNDATION
The Woodforest Charitable Foundation was created by Woodforest National Bank in 2005 as a direct result of its desire to support and invest in the communities in which it serves. The Foundation is committed to assisting those in need, enriching lives and communities through dedicated leadership and faithful administration by providing funding to qualifying 501(c)(3) charities. For additional information regarding the Woodforest Charitable Foundation, call (832) 375-CARE (2273) or visit the foundation's website at www.woodforestcharitablefoundation.org.
ABOUT WOODFOREST NATIONAL BANK
Celebrating 32 years of service and ranked among the top earning banks in the United States, the Woodforest family of banks currently has assets of approximately $3.7 billion and services more than 837,000 customers with branches in excess of 760 throughout seventeen states: Texas, Alabama, Florida, Georgia, Illinois, Indiana, Kentucky, Louisiana, Maryland, Mississippi, New York, North Carolina, Ohio, Pennsylvania, South Carolina, Virginia and West Virginia. For information about Woodforest National Bank, please call 832-375-2000 or visit the bank's website at www.woodforest.com.