Woodforest Charitable Foundation donates $5,000 to Gleaners Food Bank of Indiana, Inc.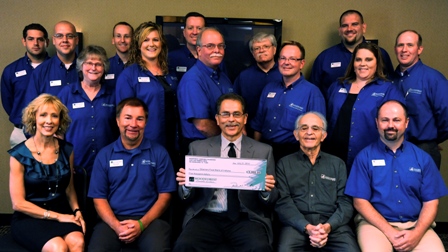 ---
INDIANAPOLIS, IN – Woodforest Charitable Foundation recently donated $5,000 to Gleaners Food Bank of Indiana. The grant will support the Food Bank's Kids Café and BackSacks-Weekend Food for Kids Programs.
In the 21-county area served by Gleaners Food Bank, more than 242,000 people live in poverty, 89,000 of which are children. The subsequent nutritional programs were implemented in an endeavor to end childhood hunger in Indiana.
The Kids Café after-school and summer program serves hungry or at-risk children in low-income households. Each school day, and during the summer months, the program provides children a heavy afternoon snack or a light meal as well as a safe place to go after school. On average, Kids Café Program sites serves nearly 55,000 meals per year.
The Food Bank's BackSacks-Weekend Food for Kids Program provides children in low-income areas with six weekend meals. A donated backpack is filled every Friday with kid-friendly food that is nutritious and shelf-stable, ensuring each child has enough to eat during weekends and holidays. "As you can imagine, the recession has made the Kids Café and BackSacks-Weekend Food for Kids Programs even more critical than ever. With Woodforest's help, we will reach our goal of rescuing 3,500 children from hunger before the end of the 2010-2011 school year," said Pamela Altmeyer, President & CEO of Gleaners Food Bank of Indiana. "Thank you for making a place at the table for these needy kids, and for your dedicated partnership in the fight against hunger."
As a 501(c)(3) not-for-profit organization, Gleaners Food Bank of Indiana works toward accomplishing their mission of securing, storing and redistributing donated food to more than 350 Hunger Relief Charities. Gleaners has supplied over 230 million pounds of food to partner agencies since 1980.
For more information about Gleaner's Food Bank of Indiana, please call (317) 925-0191 or visit www.gleaners.org.
The Woodforest Charitable Foundation was created by Woodforest National Bank in 2005 as a direct result of its desire to support and invest in the communities in which it serves. The Foundation is creating a legacy of commitment to those in need, enriching lives and communities through dedicated leadership and faithful administration by providing funding to qualifying 501(c)(3) charities. For additional information regarding The Woodforest Charitable Foundation, call (832) 375-CARE (2273) or visit the Foundation's website at www.woodforestcharitablefoundation.org.
Celebrating 30 years of service and ranked among the top earning banks in the United States, the Woodforest family of banks currently has assets of approximately $3.2 billion and services more than 850,000 customers with branches in excess of 750 throughout seventeen states: Texas, Alabama, Florida, Georgia, Illinois, Indiana, Kentucky, Louisiana, Maryland, Mississippi, New York, North Carolina, Ohio, Pennsylvania, South Carolina, Virginia and West Virginia. For information about Woodforest National Bank, please call 832-375-2000 or visit the bank's website at www.woodforest.com.