Woodforest Charitable Foundation donates $400 to Greater Baton Rouge Food Bank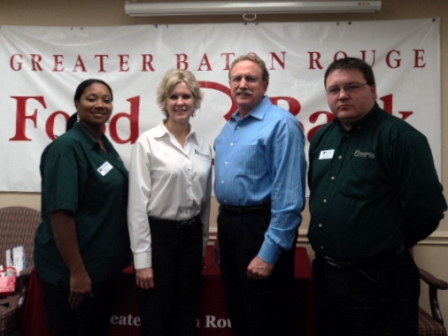 ---
BATON ROUGE, LA – Woodforest Charitable Foundation makes a $400 donation in support of Greater Baton Rouge Food Bank's Adopt A Senior Program.
Since 1984, Greater Baton Rouge Food Bank's mission has been to feed the hungry in Baton Rouge and surrounding parishes by providing food and educational outreach through faith-based and other community partners. In addition to providing food to more than 120 charitable agencies throughout 11 parishes, the Food Bank operates a feeding program targeting senior citizens at risk of hunger.
The Adopt A Senior Program was designed to help supplement seniors nutritional needs so they are not faced with the difficult decision of having to choose between buying food or other necessities, such as medicines, rent, or utilities. The program provides seniors with a large box of food every month for one year. With more food in the household, seniors do not have to skip meals, they experience improved nutrition, and can stretch their budgets by saving money on food costs.
"We are so grateful for the contributions from Woodforest National Bank and its employees, friends and customers for their support in this donation," expressed Charlene Montelaro, Vice President of Development & Philanthropy, Greater Baton Rouge Food Bank. "Woodforest's generous gift feeds the hope that one day no senior citizen in greater Baton Rouge will go hungry."
For more information about Greater Baton Rouge Food Bank, please call (225)359-9940 or visit www.brfoodbank.org.
The Woodforest Charitable Foundation was created by Woodforest National Bank in 2005 as a direct result of its desire to support and invest in the communities in which it serves. The Foundation is creating a legacy of commitment to those in need, enriching lives and communities through dedicated leadership and faithful administration by providing funding to qualifying 501(c)(3) charities. For additional information regarding The Woodforest Charitable Foundation, call (832) 375-CARE (2273) or visit the Foundation's website at www.woodforestcharitablefoundation.org.
Celebrating 30 years of service and ranked among the top earning banks in the United States, the Woodforest family of banks currently has assets of approximately $3.2 billion and services more than 850,000 customers with branches in excess of 750 throughout seventeen states: Texas, Alabama, Florida, Georgia, Illinois, Indiana, Kentucky, Louisiana, Maryland, Mississippi, New York, North Carolina, Ohio, Pennsylvania, South Carolina, Virginia and West Virginia. For information about Woodforest National Bank, please call 832-375-2000 or visit the bank's website at www.woodforest.com.