Woodforest Charitable Foundation donates $2,800 to Greater Berks Food Bank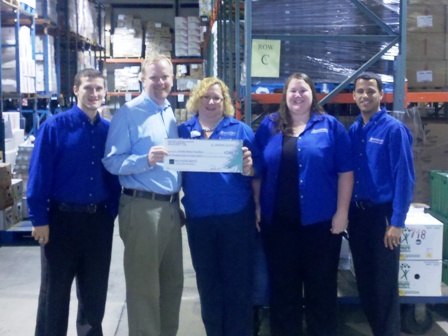 ---
READING, PA - Woodforest Charitable Foundation recently donated $2,800 to Greater Berks Food Bank in support of their child nutrition programs.
The Greater Berks Food Bank (GBFB) is a non-profit organization founded in 1983 by a group of local religious leaders concerned about the community's hunger problem. The GBFB collects, stores, and distributes food to more than 250 charitable programs (food pantries, soup kitchens, shelters, after school programs, and senior housing facilities) in Berks, Schuylkill and western Montgomery Counties.
Kids Café is an after-school program that provides nutritionally balanced meals to children who might not otherwise receive a meal at home. Additionally, the program provides homework help as well as recreational and social activities. The GBFB sponsors 25 Kids Cafes throughout the city of Reading. As many as 1,000 meals are served each weeknight and more than 1,200,000 meals have been served since the program was piloted in 1997. The Weekender Backpack Program provides a bag of food for kids to take home on Fridays after school for the weekend. Currently, the Food Bank supports nine program sites throughout Berks County providing a total of 700 backpacks weekly.
"Woodforest Charitable Foundation's help is appreciated more than ever," said Doug Long, Manager of Marketing and Development for Greater Berks Food Bank. "The current economic situation has sent many families seeking help for the very first time. With the continued support of our food and monetary donors, the GBFB is able to combat the ever increasing problem of hunger. Thank you for your generous donation."
The Food Bank distributes nearly 4 million pounds of food, valued at more than $5 million, annually from its warehouse to programs which in turn distribute the food to local residents in need. For more information about Greater Berks Food Bank, please call (610) 926-5802 or visit www.berksfoodbank.org.
The Woodforest Charitable Foundation was created by Woodforest National Bank in 2005 as a direct result of its desire to support and invest in the communities in which it serves. The Foundation is creating a legacy of commitment to those in need, enriching lives and communities through dedicated leadership and faithful administration by providing funding to qualifying 501(c)(3) charities. For additional information regarding The Woodforest Charitable Foundation, call (832) 375-CARE (2273) or visit the foundation's website at www.woodforestfoundation.org.
Celebrating 30 years of service and ranked among the top earning banks in the United States, the Woodforest family of banks currently has assets of approximately $3.2 billion and services more than 770,000 customers with branches in excess of 700 throughout fifteen states: Texas, Alabama, Illinois, Indiana, Kentucky, Louisiana, Maryland, Mississippi, New York, North Carolina, Ohio, Pennsylvania, South Carolina, Virginia and West Virginia. For information about Woodforest National Bank, please call 832-375-2000 or visit the bank's website at www.woodforest.com.