Woodforest Charitable Foundation Donates $2,000 to Harvest Hope Food Bank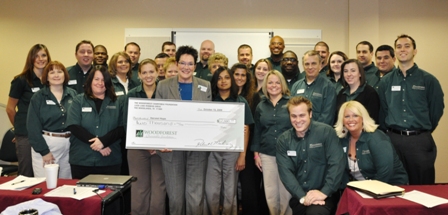 ---
COLUMBIA, South Carolina – Harvest Hope Food Bank receives a $2,000 contribution from the Woodforest Charitable Foundation.
From parents who work minimum wage jobs while struggling to put food on the table, to senior citizens who have trouble paying for expensive medications, hunger is a reality for a growing number of Americans. Woodforest Charitable Foundation recently donated $2,000 to Harvest Hope Food Bank in support of their efforts to distribute food to underprivileged citizens.
Beginning in 1981 as an emergency food box program, Harvest Hope Food Bank is now a regional distribution program that collects, stores and distributes food to more than 400 qualified agencies engaged in feeding needy, elderly and ill families and children throughout central South Carolina. As a member of Feeding America, the national network of over 200 food banks, Harvest Hope is a powerful agent in the war against hunger. Each week, Harvest Hope Food Bank provides assistance to thousands of hungry people by distributing food throughout 20 counties in central South Carolina.
Harvest Hope Food Bank disseminates approximately 19 million pounds of food per year. "Every month the economy claims more jobs in South Carolina. With unemployment nearly 12 percent in our state, your support becomes even more critical in our efforts to feed the hungry. On average, the food bank feeds almost 30,000 people a month in the 20 counties its serves. However, as the unemployment rate rises, the demand will create an even greater struggle for the food bank to feed our unprecedented hunger population," said Denise Holland, Chief Executive Officer of Harvest Hope Food Bank. "On behalf of Harvest Hope and our clients, I thank the Woodforest Charitable Foundation for your generosity. Your donation of $2,000 is so greatly appreciated."
For more information about Harvest Hope Food Bank, please call (803) 254-4432 or visit www.harvesthope.org.
The Woodforest Charitable Foundation was created by Woodforest National Bank in 2005 as a direct result of its desire to support and invest in the communities in which it serves. The Foundation is creating a legacy of commitment to those in need, enriching lives and communities through dedicated leadership and faithful administration by providing funding to qualifying 501(c)(3) charities. For additional information regarding The Woodforest Charitable Foundation, call (832) 375-CARE (2273) or visit the foundation's website at www.woodforestcharitablefoundation.org.
Celebrating 30 years of service and ranked among the top earning banks in the United States, the Woodforest family of banks currently has assets of approximately $3.2 billion and services more than 770,000 customers with branches in excess of 700 throughout seventeen states: Texas, Alabama, Florida, Georgia, Illinois, Indiana, Kentucky, Louisiana, Maryland, Mississippi, New York, North Carolina, Ohio, Pennsylvania, South Carolina, Virginia and West Virginia. For information about Woodforest National Bank, please call 832-375-2000 or visit the bank's website at www.woodforest.com.