Woodforest Charitable Foundation Donates $10,000 to Interfaith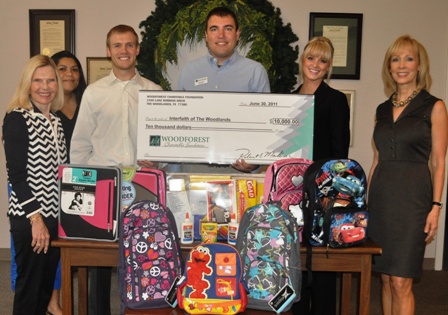 ---
THE WOODLANDS, TX - With the school year approaching and many, many local families turning to Interfaith for assistance with school supplies for their children, the Woodforest Charitable Foundation made an incredible difference with their contribution of $10,000 to help supply children with school supplies, a backpack and clothing.

"The Woodforest Charitable Foundation has generously donated to Interfaith of The Woodlands' throughout the years," shared Dr. Ann Snyder, President and CEO of Interfaith of The Woodlands. "Their financial donation was truly needed and we are extremely grateful."
According to Kim Marling, Executive Director & Vice President of The Woodforest Charitable Foundation, "The first day of school should be a filled with excitement not the fear of being different from everyone else. The Woodforest Charitable Foundation is pleased to support Interfaith's Back To School program. Every child should have an equal start."
This year, Interfaith will help approximately 1,400 students through the school supply program. The funds received from the Woodforest Charitable Foundation will help Interfaith to assist over 180 children with school supplies.
For a $55 donation, Interfaith is able to provide a one child the same opportunities as all the other children and make the 1st day of school a complete success! All students receive a grade and school approved supply kit, a backpack and a new outfit for the 1st day of school.
To learn more about Interfaith of The Woodlands, please call 281-367-1230 or view the website at www.woodlandsinterfaith.org. For information about the Woodforest Charitable Foundation, view woodforestcharitablefoundation.org or call 832-375-CARE (2273).