Woodforest Charitable Foundation Donates $5,000 to Interfaith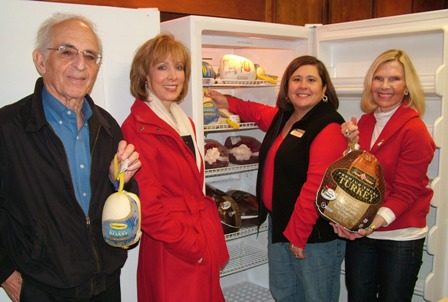 ---
The Woodlands, Texas - In keeping with the spirit of the holiday season, The Woodforest Charitable Foundation made a generous contribution of $5,000 to Interfaith's food pantry to help the organization provide turkeys and all the holiday trimmings to individuals and families in need this holiday season.
"The Woodforest Charitable Foundation donation will greatly assist us in our endeavor to give each individual and/or family a holiday meal with a turkey, in addition to the other non-pershiables this holiday season," shared Dr. Ann Snyder, President and CEO of Interfaith of The Woodlands. "Their financial donation was truly needed, and we are extremely grateful."
According to Kim Marling, Vice President of The Woodforest Charitable Foundation, "We are pleased to once again contribute to Interfaith of The Woodlands. We hope this donation will help to spread joy as families come together for their holiday meal. The Woodforest Charitable Foundation is proud to be able to give back to this community, thus enriching lives in the community."
To learn more about Interfaith of The Woodlands Food Pantry, please call 281-367-1230 or view the website at www.woodlandsinterfaith.org.
The Woodforest Charitable Foundation was created by Woodforest National Bank in 2005 as a direct result of its desire to support and invest in the communities in which it serves. The Foundation is creating a legacy of commitment to those in need, enriching lives and communities through dedicated leadership and faithful administration by providing funding to qualifying 501(c)(3) charities. For additional information regarding The Woodforest Charitable Foundation, call (832) 375-CARE (2273) or visit the foundation's website at www.woodforestcharitablefoundation.org.
Celebrating 30 years of service and ranked among the top earning banks in the United States, the Woodforest family of banks currently has assets of approximately $3.2 billion and services more than 770,000 customers with branches in excess of 700 throughout fifteen states: Texas, Alabama, Illinois, Indiana, Kentucky, Louisiana, Maryland, Mississippi, New York, North Carolina, Ohio, Pennsylvania, South Carolina, Virginia and West Virginia. For information about Woodforest National Bank, please call 832-375-2000 or visit the bank's website at www.woodforest.com.
.