Woodforest Charitable Foundation supports Montgomery County Emergency Assistance with a $10,000 contribution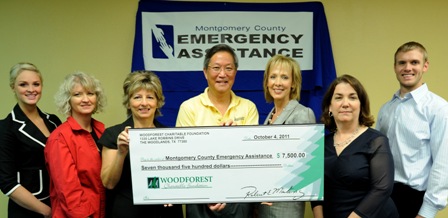 ---
THE WOODLANDS, TX - Montgomery County Emergency Assistance has received a $10,000 contribution from Woodforest Charitable Foundation.
Montgomery County Emergency Assistance (MCEA) is a private, non-profit organization that aids Montgomery County residents with emergency financial assistance. Typical assistance provided by MCEA can come in the form of food, clothing, or paying a portion of a utility, rent/mortgage, or prescription bill. The client must prove a personal crisis, such as a sudden reduction in income or an unexpected spike in expenses. MCEA Case Managers work with each family to determine the best way to address their crisis situation. Last year MCEA assisted more than 8,000 county residents through six offices located in Conroe, The Woodlands, Magnolia, New Caney, Montgomery and Willis. MCEA also operates a food pantry and resale thrift shop.
"We are so grateful for the generous support from Woodforest Charitable Foundation," said David Hwa, Executive Director of MCEA. "So many in our community are suffering from the effects of this prolonged recession. The Foundation's donation will be used entirely for our programs that will help families stay in their homes after suffering a financial crisis. We are proud to be partners with this community leader."
Kim Marling, Executive Director of Woodforest Charitable Foundation, added, "Montgomery County Emergency Assistance provides such an important level of help to our local residents who are experiencing a crisis or extreme hardship, we feel privileged to be able to support their assistance to our community."
The Woodforest Charitable Foundation was created by Woodforest National Bank in 2005 as a direct result of its desire to support and invest in the communities in which it serves. In its sixth year, Woodforest Charitable Foundation continues to demonstrate a legacy of commitment to those in need, enriching lives and communities through dedicated leadership and faithful administration by providing funding to qualifying 501(c)(3) charities. For additional information regarding The Woodforest Charitable Foundation, call (832) 375-CARE (2273) or visit the foundation's website at www.woodforestcharitablefoundation.org.