Woodforest Charitable Foundation supports Humane Society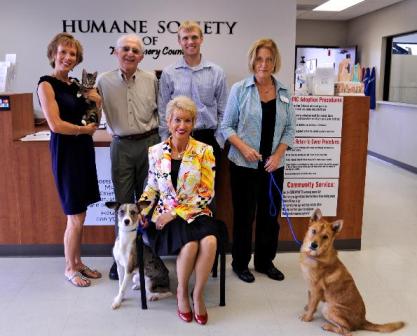 ---
The Woodlands, Texas - In support of the Humane Society of Montgomery County (HSMC), Woodforest Charitable Foundation has recently provided a $2,200 donation to the non-profit organization.
Allison Yee, a supporter of HSMC, said, "Rescuing and loving animals has been very rewarding in my life. Volunteers are desperately needed; I would encourage everyone to participate in a local program which finds homes for these wonderful animals."
Located in Conroe, the Humane Society of Montgomery County promotes the humane treatment of animals by providing shelter, care, adoptions, spay/neuter programs, and community education. Their vision is to end pet over-population and to advance the humane treatment of animals.
The Woodforest Charitable Foundation was created by Woodforest National Bank in 2005 as a direct result of its desire to support and invest in the communities in which it serves. The Foundation is creating a legacy of commitment to those in need, enriching lives and communities through dedicated leadership and faithful administration by providing funding to qualifying 501(c)(3) charities.
For additional information regarding The Woodforest Charitable Foundation, call (832) 375-CARE (2273) or visit the foundation's website at www.woodforestfoundation.org.