Mountaineer Food Bank receives $5,055 donation from Woodforest Charitable Foundation.
09-October, 2012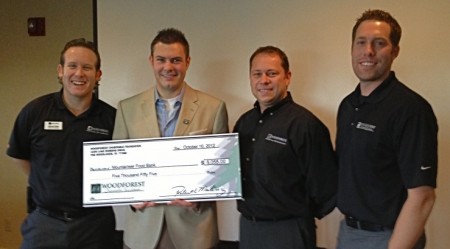 ---
GASSAWAY, WV – Woodforest Charitable Foundation presents Mountaineer Food Bank with a $5,055 donation.
In 1981, Mountaineer Food Bank was created through the efforts of an anti-hunger coalition looking for ways to feed more people. They began creating relationships throughout the state, and started the rural food delivery system in the Feeding America network.
Today, Mountaineer Food Bank is the state's largest supplier of food and personal products for people in need of emergency assistance through a sophisticated network of feeding programs and donors. Mountaineer Food Bank now serves over 500 programs in 48 counties in West Virginia.
The Food Bank's state of the art facility and ordering system allows them to deliver food every month to community soup kitchens, food pantries, day care centers, shelters, after school programs, Back Pack programs, and senior programs as needed. In 2010, Mountaineer Food Bank distributed 8.4 million pounds of food to partner agencies. The Food Bank is a charter member of Feeding America, a national organization dedicated to hunger relief.
The Food Bank's Back Pack Program was implemented in order to meet the needs of children when food resources are not available. This program provides children with healthy, easy to consume foods that can be take home on weekends and school vacations. Currently, the Food Bank operates 24 Back Pack Programs in 12 counties of West Virginia.
"I would like to thank you and all of those associated with Woodforest Charitable Foundation for the contribution to support BackPack Programs in West Virginia. Charitable donations like yours are what continue to help us toward our mission to alleviate hunger in West Virginia. Again, thank you for your continued support of food banks across the country and our hunger relief efforts," said Chad Morrison, Development Director of Mountaineer Food Bank.
For more information on Woodforest Charitable Foundation's contributions to this organization, please contact this agency directly at (304)364-5518 or visit www.mountaineerfoodbank.org.
The Woodforest Charitable Foundation was created by Woodforest National Bank in 2005 as a direct result of its desire to support and invest in the communities in which it serves. The Foundation is creating a legacy of commitment to those in need, enriching lives and communities through dedicated leadership and faithful administration by providing funding to qualifying 501(c) (3) charities. For additional information regarding The Woodforest Charitable Foundation, call (832) 375-CARE (2273) or visit the foundation's website at www.woodforestcharitablefoundation.org.
Celebrating 32 years of service and ranked among the top earning banks in the United States, the Woodforest family of banks currently has assets of approximately $3.7 billion and services more than 1 million customers with branches in excess of 780 throughout 17 states: Texas, Alabama, Florida, Georgia, Illinois, Indiana, Kentucky, Louisiana, Maryland, Mississippi, New York, North Carolina, Ohio, Pennsylvania, South Carolina, Virginia and West Virginia. For information about Woodforest National Bank, please call k832-375-2000 or visit the bank's website at www.woodforest.com.