Snack Packs Help Get Students through the Weekend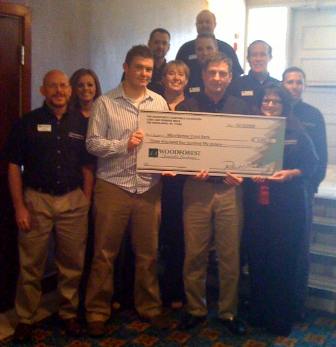 ---
Charleston, W. Va. – At Sutton Elementary School, Melissa Kitzmiller is "the snack lady."
Every Friday afternoon, preschool teacher Kitzmiller visits each classroom in the Braxton County school and hands out bags full of snacks to about 50 students. The plastic bags, filled with fruit, cereal bars, crackers and other snacks, give the students, who come from struggling families, a little extra food to get them through the weekend.
"Families are struggling, and more children are on free or reduced lunches than in the past," Kitzmiller said. "It hasn't been difficult to find 50 children [to take part in the program] this year." This is the second year the school has participated in the Snack Pack Program, overseen by the Braxton County-based Mountaineer Food Bank. The program is funded through a grant with Feeding America, and provides snacks to 50 elementary students identified by school officials. "A lot of our kids, they don't have a whole lot when they get home. They get this snack on a Friday to help through the weekend," Kitzmiller said. Students who qualify to receive free or reduced lunches or breakfast are identified first to receive the Snack Packs, she said. "I send home a permission slip [at the start of the year] to get parent approval and to check for any food allergies," she said. "If the parents don't feel like they need it, they're free to mark no, but most of them take it."
Sutton Elementary is one of eight elementary schools - one each in Clay, Fayette, Mercer, Nicholas, Roan, Summers, Webster and Braxton counties - that take part in the program.
This week, Mountaineer Food Bank received a donation from the Woodforest Charitable Foundation to add Kanawha County to the list. The grant will fund snacks for more than 50 students at one elementary school in the county, said Carla Nardella, executive director of the food bank. Which school and the number of eligible students was unclear late Friday. But Nardella plans to have the Snack Pack Program up and running in Kanawha County within the month. The food bank also accepts individual contributions, Nardella said. It costs only $50 to provide one child with snacks for a full school year, she said. "That's not much money," she said. "It's not going to provide three hot meals, but it's a little that can go a long way."
The food used in the program is distributed through Mountaineer Food Bank. Individual food distribution sites in each county put the snack packs together and distribute them to the school. "They don't send candy bars or sugar loaded-type snacks," said Sutton Elementary Principal Don Johnson. "Generally, it's healthy type stuff." Items in the packs usually include: apples; bananas; pudding; applesauce; trail mix; granola or cereal bars; and water or juice, Nardella said. "We want easy to open items that the children don't have to cook or prepare," she said. "We also encourage the feeding programs to put a little extra [in the packs] in case there is another sibling in the household that can't take advantage of this program."
Kitzmiller said the weekend snack packs have been a hit at her school. "It's accepted, some of the other students always ask 'where's my bag?' and we just explain that these children don't have a lot," she said.
For information about the Snack Pack Program, call the Mountaineer Food Bank at 304-364-5518 or visit www.mountaineerfoodbank.com.
The Woodforest Charitable Foundation was created by Woodforest National Bank in 2005 as a direct result of its desire to support and invest in the communities in which it serves. The Foundation is creating a legacy of commitment to those in need, enriching lives and communities through dedicated leadership and faithful administration by providing funding to qualifying 501(c)(3) charities. For additional information regarding The Woodforest Charitable Foundation, call 832-375-CARE (2273) or visit the foundation's website at www.woodforestcharitablefoundation.org.