Woodforest Charitable Foundation donates $1,800 to Palmetto Place Children's Emergency Shelter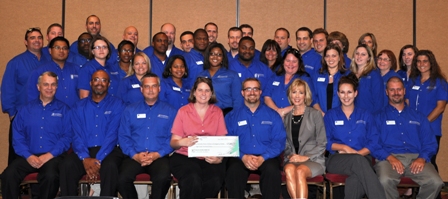 ---
COLUMBIA, SC - Woodforest Charitable Foundation recently donated $1,800 to Palmetto Place Children's Emergency Shelter.
Since the Shelter was founded, more than 6,000 of the Midland's abused, neglected, and abandoned children have found a safe, nurturing home at Palmetto Place. Palmetto Place is a five-bedroom home, with each bedroom designated for a specific age range and gender. During their stay at Palmetto Place, children receive medical, mental health and dental care; nutritious meals; and clothing and personal care items. Staff provides transportation to and from school and appointments for the children, and the children can participate in a wide variety of recreational and social activities.
"At Palmetto Place victims of child maltreatment learn to believe that adults will meet their needs for safe shelter, food, clothing, respect and guidance. Palmetto Place is their safe haven," said Kenya Mingo, Development Director of Palmetto Place Children's Emergency Shelter. "On behalf of the Palmetto Place Children's Emergency Shelter, it is with much gratitude that I say thank you for Woodforest Charitable Foundation's generous donation of $1,800."
For more information about Palmetto Place Children's Emergency Shelter, please call (803) 786-6819, send an e-mail to director@palmettoplaceshelter.org, or visit the Shelter's website at www.palmettoplaceshelter.org.
The Woodforest Charitable Foundation was created by Woodforest National Bank in 2005 as a direct result of its desire to support and invest in the communities in which it serves. The Foundation is creating a legacy of commitment to those in need, enriching lives and communities through dedicated leadership and faithful administration by providing funding to qualifying 501(c)(3) charities. For additional information regarding The Woodforest Charitable Foundation, call 832-375-CARE (2273) or visit the foundation's website at www.woodforestcharitablefoundation.org.
Celebrating 30 years of service and ranked among the top earning banks in the United States, the Woodforest family of banks currently has assets of approximately $3.2 billion and services more than 770,000 customers with branches in excess of 700 throughout seventeen states: Texas, Alabama, Florida, Georgia, Illinois, Indiana, Kentucky, Louisiana, Maryland, Mississippi, New York, North Carolina, Ohio, Pennsylvania, South Carolina, Virginia and West Virginia. For information about Woodforest National Bank, please call 832-375-2000 or visit the bank's website at www.woodforest.com.