Regional Food Bank of Northeastern New York receives $1,960 donation from WCF.
16-May, 2013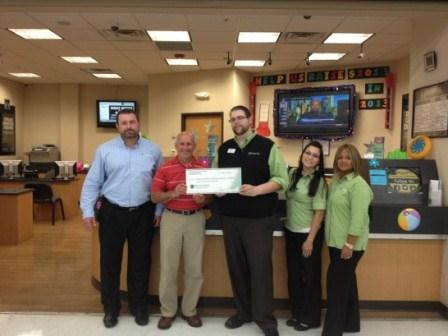 ---
Regional Food Bank of Northeastern New York
Latham, NY - The Regional Food Bank has been helping to feed the poor and hungry in their communities since 1982. It is the only organization of its kind in northeastern New York. The Food Bank collects large donations of food from the food industry and distributes it to charitable agencies serving hungry and disadvantaged people in 23 counties. From Plattsburgh to Newburgh, in urban, rural, and suburban communities, the Food Bank provides over 25 million pounds of food a year to 1,000 agencies.
Two years ago, a small school district approached the Regional Food Bank about starting a BackPack Program in their elementary school because they were very concerned that many children in their school were not being properly nourished. We were able to start a program in the school a few weeks later, and in the process they introduced us to a grandmother who is raising several of her grandchildren on a very limited income. She was really struggling to meet all the costs of feeding, clothing, and caring for them, and the school was concerned about their ability to do well in school. They immediately signed some of the kids up for the BackPack Program, and it has made a world of difference. She told us personally that she no longer worries about being able to feed them and knows they are now being properly nourished. The kids are healthy and happy and love the food they get from the BackPack Program. Through our contacts at the school, we also learned the family desperately needed a new washer and dryer because their old ones recently died. The Food Bank was able to contact a local foundation that paid to have a new washer and dryer delivered to the family's home. The BackPack Program, which is strongly supported by Woodforest National Bank and Woodforest Charitable Foundation, made a huge difference in this family's life in a very short period of time.
For more information call 518-786-3691 or visit www.regionalfoodbank.net.
Woodforest Charitable Foundation
The Woodforest Charitable Foundation was created by Woodforest National Bank in 2005 as a direct result of its desire to support and invest in the communities in which it serves. The Foundation is committed to assisting those in need, enriching lives and communities through dedicated leadership and faithful administration by providing funding to qualifying 501(c)(3) charities. For additional information regarding the Woodforest Charitable Foundation, call (832) 375-CARE (2273) or visit the foundation's website at www.woodforestcharitablefoundation.org.
Woodforest National Bank
Celebrating 32 years of service and ranked among the top earning banks in the United States, the Woodforest family of banks currently has assets of approximately $3.7 billion and services more than 837,000 customers with branches in excess of 760 throughout seventeen states: Texas, Alabama, Florida, Georgia, Illinois, Indiana, Kentucky, Louisiana, Maryland, Mississippi, New York, North Carolina, Ohio, Pennsylvania, South Carolina, Virginia and West Virginia. For information about Woodforest National Bank, please call 832-375-2000 or visit the bank's website at www.woodforest.com.