Ronald McDonald House of Indiana receives $5,000 Contribution from Woodforest Charitable Foundation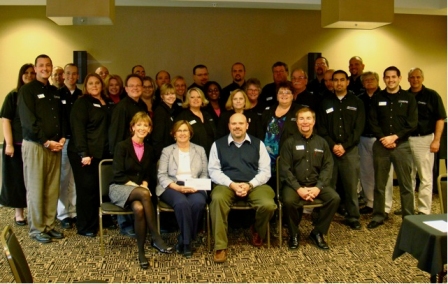 ---
The Ronald McDonald House of Indiana recently received a $5,000 contribution from The Woodforest Charitable Foundation.
Woodforest National Bank branches support the Foundation and their causes through many fundraising events. "The Woodforest Charitable Foundation is pleased to offer support to such a worthy cause. It is extremely unfortunate when any child is diagnosed with a disease. The Ronald McDonald House provides a valuable service to the families of these children which helps in the healing process. Woodforest National Bank employees are dedicated to their fundraising efforts which provide the opportunity to make a difference in the lives of others," stated Kim Marling, Vice President of Woodforest Charitable Foundation.
The mission of each Ronald McDonald House is to provide a home-away-from-home for families of children who are sick or injured and being treated in area hospitals, primarily Riley Hospital for Children. They embrace all families with children being treated in hospitals without regard to income. While the cost of operating a single room is $72 per night (based upon 2007 figures), families staying at the House are asked to make a modest donation of $10 per night. No family is ever turned away from the House if they are unable to pay. The Ronald McDonald House of Indiana provides exceptional core services within the House and expands family care and comfort as needed.
The Woodforest Charitable Foundation was created by Woodforest National Bank in 2005 as a direct result of its desire to support and invest in the communities in which it serves. The Foundation is creating a legacy of commitment to those in need, enriching lives and communities through dedicated leadership and faithful administration by providing funding to qualifying 501(c)(3) charities. For additional information regarding The Woodforest Charitable Foundation, call (832) 375-CARE (2273) or visit the foundation's website at www.woodforestcharitablefoundation.org.
Celebrating 29 years of service and ranked among the top earning banks in the United States, the Woodforest family of banks currently has assets of approximately $3.2 billion and services more than 770,000 customers with branches in excess of 670 throughout fifteen states: Texas, Alabama, Illinois, Indiana, Kentucky, Louisiana, Maryland, Mississippi, New York, North Carolina, Ohio, Pennsylvania, South Carolina, Virginia and West Virginia. For information about Woodforest National Bank, please call 832-375-2000 or visit the bank's website at www.woodforest.com.
.