Woodforest Charitable Foundation makes a $1,570 donation to Second Harvest Food Bank of Greater New Orleans and Acadiana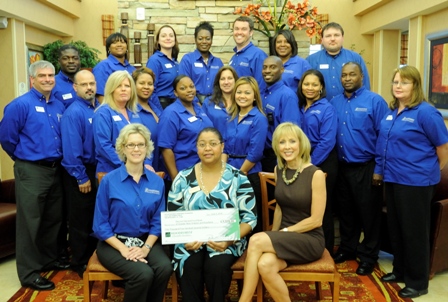 ---
NEW ORLEANS, LA – Woodforest Charitable Foundation donates $1,570 to the Second Harvest Food Bank of Greater New Orleans and Acadiana.
Established in 1982, Second Harvest Food Bank of Greater New Orleans and Acadiana has a demonstrated track record of competence and sustainability. Second Harvest Food Bank is leading the fight against hunger in south Louisiana through food distribution, advocacy, education and disaster response. Additionally, Second Harvest Food Bank combats childhood hunger through its "Lagniappe Pack" Backpack Program.
The Lagniappe Pack Backpack Program addresses the needs of school children at chronic risk for hunger by providing backpacks of food for consumption during non-school times. Backpacks are stocked with 10-12 nutritious, child-friendly, easy-to-prepare items from each of the food groups and are distributed discreetly on Fridays or the last day before a school break. Currently, 986 children at 13 schools are receiving backpacks weekly and funding is being sought to expand this program to the 48 schools on a waiting list throughout south Louisiana.
"It's a proven fact that a lack of proper nutrition can lead to health problems in children, and can negatively impact their academic performance and psychological development," said Natalie Jayroe, President/CEO of Second Harvest Food Bank of Greater New Orleans and Acadiana. "Woodforest's gift is helping to ensure that children in our community don't have to face these challenges. We are grateful for the Foundation's support in our fight against childhood hunger."
For more information about the Second Harvest Food Bank of Greater New Orleans and Acadiana, please call (504) 734-1322 or visit www.no-hunger.org.
The Woodforest Charitable Foundation was created by Woodforest National Bank in 2005 as a direct result of its desire to support and invest in the communities in which it serves. The Foundation is creating a legacy of commitment to those in need, enriching lives and communities through dedicated leadership and faithful administration by providing funding to qualifying 501(c)(3) charities. For additional information regarding The Woodforest Charitable Foundation, call (832) 375-CARE (2273) or visit the foundation's website at www.woodforestcharitablefoundation.org.
Celebrating 30 years of service and ranked among the top earning banks in the United States, the Woodforest family of banks currently has assets of approximately $3.2 billion and services more than 770,000 customers with branches in excess of 700 throughout seventeen states: Texas, Alabama, Florida, Georgia, Illinois, Indiana, Kentucky, Louisiana, Maryland, Mississippi, New York, North Carolina, Ohio, Pennsylvania, South Carolina, Virginia and West Virginia. For information about Woodforest National Bank, please call 832-375-2000 or visit the bank's website at www.woodforest.com.