Second Harvest Food Bank of Northwest North Carolina receives $12,900 donation.
18-April, 2012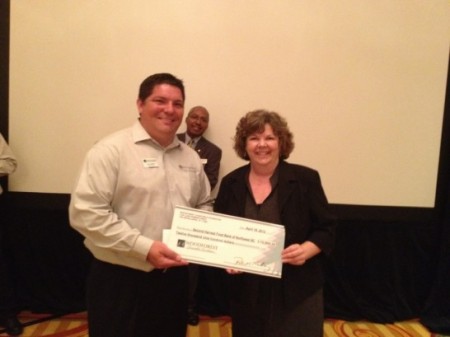 ---
WINSTON-SALEM, North Carolina – Second Harvest Food Bank of Northwest North Carolina receives a $12,900 donation from Woodforest Charitable Foundation.
Second Harvest Food Bank of Northwest North Carolina is the major distributor of donated food and grocery products in the region, collecting and distributing products to nearly 400 nonprofit partner agencies that annually feed thousands of people in need throughout 18 counties. Within the Food Bank's service area, 47% of students enrolled in school qualify for the National Free and Reduced Lunch program; a startling indicator of the extent to which many families are struggling economically in the region. The Food Bank collaborates with partner agencies to provide food to kids through two special programs aimed at reducing childhood hunger: Kids Cafe and The BackPack Program.
The Kids Cafe program was established to provide healthy meals for underserved children in a safe after school environment. The Café works to lessen the impact of hunger by offering a hot nutritious dinner from a menu that relies on fresh fruits, vegetables and protein. In addition to Kids Café, the Food Bank supports the BackPack Program.
The BackPack Program targets elementary school children in areas where the risk of chronic hunger is high. Each child that has been identified as food-deprived receives a weekly backpack filled with child-friendly, easy to prepare, non-perishable food on Fridays to take home for the weekend. Each Backpack Program site provides more than 50 elementary school-age children with nutritious food for weekend meals during the school year. Currently the Food Bank is operating more than 25 BackPack Program sites throughout their 18-county service area.
"Your investment will support our childhood hunger programs and make a real difference in the lives of hungry children in multiple counties," said Clyde Fitzgerald, Executive Director of Second Harvest Food Bank of Northwest North Carolina. "Every can, every dollar, and every hour makes a difference to someone who is hungry. Hunger is a solvable problem. Thanks for making a difference and being part of the solution."
For more information about Second Harvest Food Bank of Northwest North Carolina, please call (336) 784-5770 or visit www.hungernwnc.org.
The Woodforest Charitable Foundation was created by Woodforest National Bank in 2005 as a direct result of its desire to support and invest in the communities in which it serves. The Foundation is creating a legacy of commitment to those in need, enriching lives and communities through dedicated leadership and faithful administration by providing funding to qualifying 501(c) (3) charities. For additional information regarding The Woodforest Charitable Foundation, call (832) 375-CARE (2273) or visit the foundation's website at www.woodforestcharitablefoundation.org .
Celebrating 32 years of service and ranked among the top earning banks in the United States, the Woodforest family of banks currently has assets of approximately $3.7 billion and services more than 1 million customers with branches in excess of 780 throughout 17 states: Texas, Alabama, Florida, Georgia, Illinois, Indiana, Kentucky, Louisiana, Maryland, Mississippi, New York, North Carolina, Ohio, Pennsylvania, South Carolina, Virginia and West Virginia. For information about Woodforest National Bank, please call 832-375-2000 or visit the bank's website at www.woodforest.com.