Woodforest National Bank Gives $10,000 to Second Harvest Food Bank of Northwest NC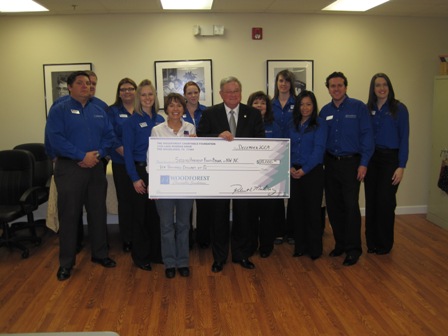 ---
Winston-Salem, NC – Representatives from Woodforest National Bank recently presented Second Harvest Food Bank of Northwest NC a check for $10,000.
"The current economy has created difficult challenges for many individuals and families this year, and there has been a significant increase in the needs of the 'working poor,'" said Kim Marling, executive director of Woodforest Charitable Foundation. "We realize that hunger is not exclusive to any single race or neighborhood and there is no particular 'face of hunger.' It reaches across all ages, race and income levels. For this reason, Woodforest supports Second Harvest Food Bank of Northwest NC in their efforts to provide the most basic of needs: nourishment."
"This financial gift comes at a time when need is great in Northwest NC," says Clyde Fitzgerald, executive director of Second Harvest Food Bank. "We are so appreciative to Woodforest National Bank for this significant gift and for their support of our mission to feed our hungry neighbors."
About Second Harvest Food Bank of Northwest NC
Second Harvest Food Bank of Northwest North Carolina is a member of Feeding America. It is the major distributor of donated food and grocery products in the region, collecting and distributing products to nearly 400 nonprofit partner agencies that annually feed thousands of people in need throughout 18 counties (Alamance, Alexander, Alleghany, Ashe, Caldwell, Caswell, Davie, Davidson, Forsyth, Guilford, Iredell, Randolph, Rockingham, Stokes, Surry, Watauga, Wilkes and Yadkin). Since opening in 1982, Second Harvest Food Bank has distributed more than 100 million pounds of food and grocery products. Second Harvest Food Bank receives donations from national donors through Feeding America (formerly America's Second Harvest); local food manufacturers and distributors; local grocery stores, caterers and restaurants; USDA commodity programs; a State Nutrition Assistance Program grant, and community food drives. It is also a member of United Way of Forsyth County.
About Feeding America (Formerly America's Second Harvest—The Nation's Food Bank Network)
Feeding America is the largest charitable domestic hunger-relief organization in the United States. Through its network of more than 200 member food banks, Feeding America annually provides assistance to more than 25 million people in need, including more than 9 million children and nearly 3 million seniors in all 50 states, the District of Columbia and Puerto Rico. Each year, Feeding America secures and distributes more than 2 billion pounds of food and grocery products to support feeding programs at approximately 63,000 local charitable agencies, including food pantries, soup kitchens, emergency shelters, after-school programs, and Kids Cafes. To learn more, please visit www.feedingamerica.org.
The Woodforest Charitable Foundation was created by Woodforest National Bank in 2005 as a direct result of its desire to support and invest in the communities in which it serves. The Foundation is creating a legacy of commitment to those in need, enriching lives and communities through dedicated leadership and faithful administration by providing funding to qualifying 501(c)(3) charities. For additional information regarding The Woodforest Charitable Foundation, call (832) 375-CARE (2273) or visit the foundation's website at www.woodforestcharitablefoundation.org.
Celebrating 30 years of service and ranked among the top earning banks in the United States, the Woodforest family of banks currently has assets of approximately $3.2 billion and services more than 770,000 customers with branches in excess of 700 throughout fifteen states: Texas, Alabama, Illinois, Indiana, Kentucky, Louisiana, Maryland, Mississippi, New York, North Carolina, Ohio, Pennsylvania, South Carolina, Virginia and West Virginia. For information about Woodforest National Bank, please call 832-375-2000 or visit the bank's website at www.woodforest.com.