Woodforest Charitable Foundation donates $4,150 to The Foodbank of Southeastern Virginia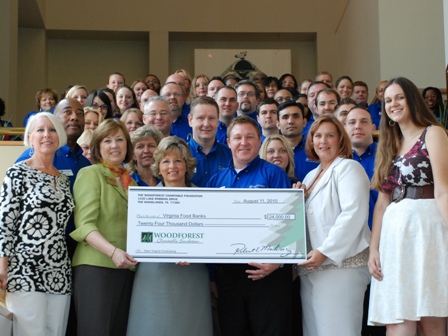 ---
NORFOLK, VA –Woodforest Charitable Foundation makes a $4,150 donation in support of The Foodbank of Southeastern Virginia's feeding programs for children at risk of hunger.
The Foodbank of Southeastern Virginia considers ending childhood hunger a major priority. More than 80,400 youth are eligible for the free and reduced price lunch program in the Food Bank's service area. This is an obvious indicator that children are not receiving the nutritious food they need to learn and grow.
The Kids Café Program was created by Feeding America and is administered locally by The Foodbank of Southeastern Virginia. It is a place where children ages 4 through 18 can go to receive free, nutritious evening meals in a safe, supportive environment. Twenty Kids Cafés are currently operating, conveniently located in low-income neighborhoods so participating children can walk or bicycle to these sites after school.
The BackPack Program is a nationally-recognized program that distributes nutritious food to children at the end of the school day, before weekends and school breaks. Students are identified by school personnel as being food insecure by a variety of criteria. At present, the Foodbank serves 40 elementary schools, distributing over 30,000 backpacks of food each year. "Woodforest Charitable Foundation's gift will provide support for our children's feedings programs that address the issue of hunger year-round," said Joanne Batson, CEO, The Foodbank of Southeastern Virginia. "Thank you for recognizing hunger is unacceptable and for doing something about it."
For more information about The Foodbank of Southeastern Virginia, please call 877-486-4379 or visit www.foodbankonline.org.
The Woodforest Charitable Foundation was created by Woodforest National Bank in 2005 as a direct result of its desire to support and invest in the communities in which it serves. The Foundation is creating a legacy of commitment to those in need, enriching lives and communities through dedicated leadership and faithful administration by providing funding to qualifying 501(c)(3) charities. For additional information regarding The Woodforest Charitable Foundation, call 832-375-CARE (2273) or visit the Foundation's website at www.woodforestcharitablefoundation.org.
Celebrating 30 years of service and ranked among the top earning banks in the United States, the Woodforest family of banks currently has assets of approximately $3.2 billion and services more than 850,000 customers with branches in excess of 750 throughout seventeen states: Texas, Alabama, Florida, Georgia, Illinois, Indiana, Kentucky, Louisiana, Maryland, Mississippi, New York, North Carolina, Ohio, Pennsylvania, South Carolina, Virginia and West Virginia. For information about Woodforest National Bank, please call 832-375-2000 or visit the bank's website at www.woodforest.com.