The Rose receives $200,000 donation from Woodforest Charitable Foundation.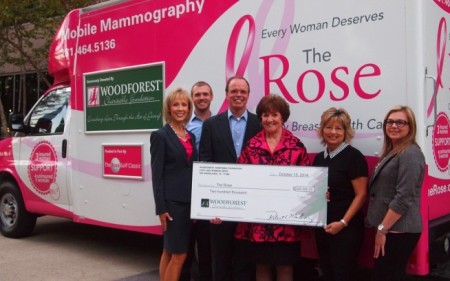 ---
Lifesaving mammograms are now more convenient thanks to a major gift from Woodforest Charitable Foundation to The Rose.
A $200,000 donation provided the medical equipment needed to complete a fourth mobile mammography unit set to serve Montgomery County. With all four units combined, nearly 14,000 women will be served in the coming year.
The Rose, a Houston nonprofit breast cancer organization, offers breast cancer screening and diagnostic services inclding mammograms, ultrasounds, biopsies and access to treatment regardless of a person's ability to pay.
"We are grateful for the support from Woodforest Charitable Foundation to help us facilitate this incredible addition to our mobile fleet,' said Dorothy Gibbons, CEO and co-founder of The Rose.
The hot pink mobile mammography van is fully equipped. It will dedicated to serving women inMontgomery and surrounding counties.
"Studies clearly show the impact of mammography screening on reducing the number of women who die from breast cancer... mobile mammography saves time, money and lives. Since rural areas have more loss f life due to breast cancer, taking services to women makes all the difference in the world," Gibbons said.
Kim Marling, Executive Director and Vice President of the Board of Directors of the Woodforest Charitbale Foundation, is a breast cancer survivor.
"Early detection and treatment is key to survival... it saved my life," Marling said. "This mobile unit has the potential to save dozens if not hundreds of lives. It will target a need that may mean the difference between life and death for some women and men throughout our community."
The Rose welcomes businesses and corporations to feature the Mobile Mammography Unit during employee wellness programs and to host a Mobile Mammography day at their workplace.
To learn more about The Rose Mobile Mammography, email ontheroad@TheRose.org. To schedule a site visit, call 281-464-5136 or email mobileteam@TheRose.org.