Woodforest Charitable Foundation Donates $3,000 to The Rose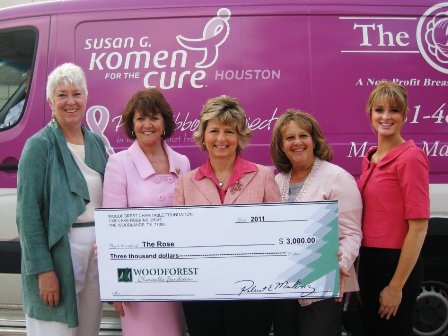 ---
HOUSTON, TX – The signature hot pink mobile mammography van from The Rose – Houston's leading non-profit breast cancer organization – recently traveled north to a Conroe branch of Woodforest National Bank. The van provided just the backdrop needed for representatives to receive $3,000 from the Woodforest Charitable Foundation.
"It has been a pleasure partnering with The Rose to assist in its endeavors to serve others," said Sarahbeth Melton, Foundation representative.
The Woodforest Charitable Foundation provides funding to qualifying 501(c)(3) charities, focusing primarily on social service programs in the communities that are served by Woodforest National Banks. The Foundation pre-selects the charities to which it makes gifts, and The Rose has become a designated recipient.
"We are so thankful for Woodforest Charitable Foundation and Woodforest National Bank," said Dorothy Gibbons, CEO and Co-founder of The Rose. "We are very fortunate to have their support, especially now that we have extended services to more and more community partners and clinics located in Montgomery County."
The Rose's Mobile Mammography program provides services at corporate sites, doctors' offices, community centers and other locations throughout Harris County and 15 surrounding counties, including providing 232 women with mammograms at sites within Montgomery County last year. The Program uses the Planmed Sophie Classic Mobile system for high image quality screening mammography, which provides the same high-quality, digital mammograms in remote locations as those available at its two mammography centers located in southeast Houston and in the Galleria area.
Celebrating 25 years of awarding-winning service to southeast east Texas, The Rose offers a full range of breast cancer screening and diagnostic services including mammograms, ultrasounds, biopsies and access to treatment regardless of a person's ability to pay.
The Woodforest Charitable Foundation was created by Woodforest National Bank in 2005 as a direct result of its desire to support and invest in the communities in which it serves. The Foundation is creating a legacy of commitment to those in need, enriching lives and communities through dedicated leadership and faithful administration by providing funding to qualifying 501(c)(3) charities.
Celebrating 30 years of service and ranked among the top earning banks in the United States, the Woodforest family of banks currently has assets of approximately $3.2 billion and services more than 850,000 customers with branches in excess of 750 throughout seventeen states: Texas, Alabama, Florida, Georgia, Illinois, Indiana, Kentucky, Louisiana, Maryland, Mississippi, New York, North Carolina, Ohio, Pennsylvania, South Carolina, Virginia and West Virginia.
For information about Woodforest National Bank, please call 832-375-2000 or visit the bank's website at www.woodforest.com.
For additional information regarding The Woodforest Charitable Foundation, call (832) 375-CARE (2273) or visit the Foundation's website at www.woodforestcharitablefoundation.org. For more information on The Rose, its services, and charitable opportunities, visit its website at www.TheRose.org.