Toledo Northwestern Food Bank receives $4,535 donation from Woodforest Charitable Foundation.
10-October, 2012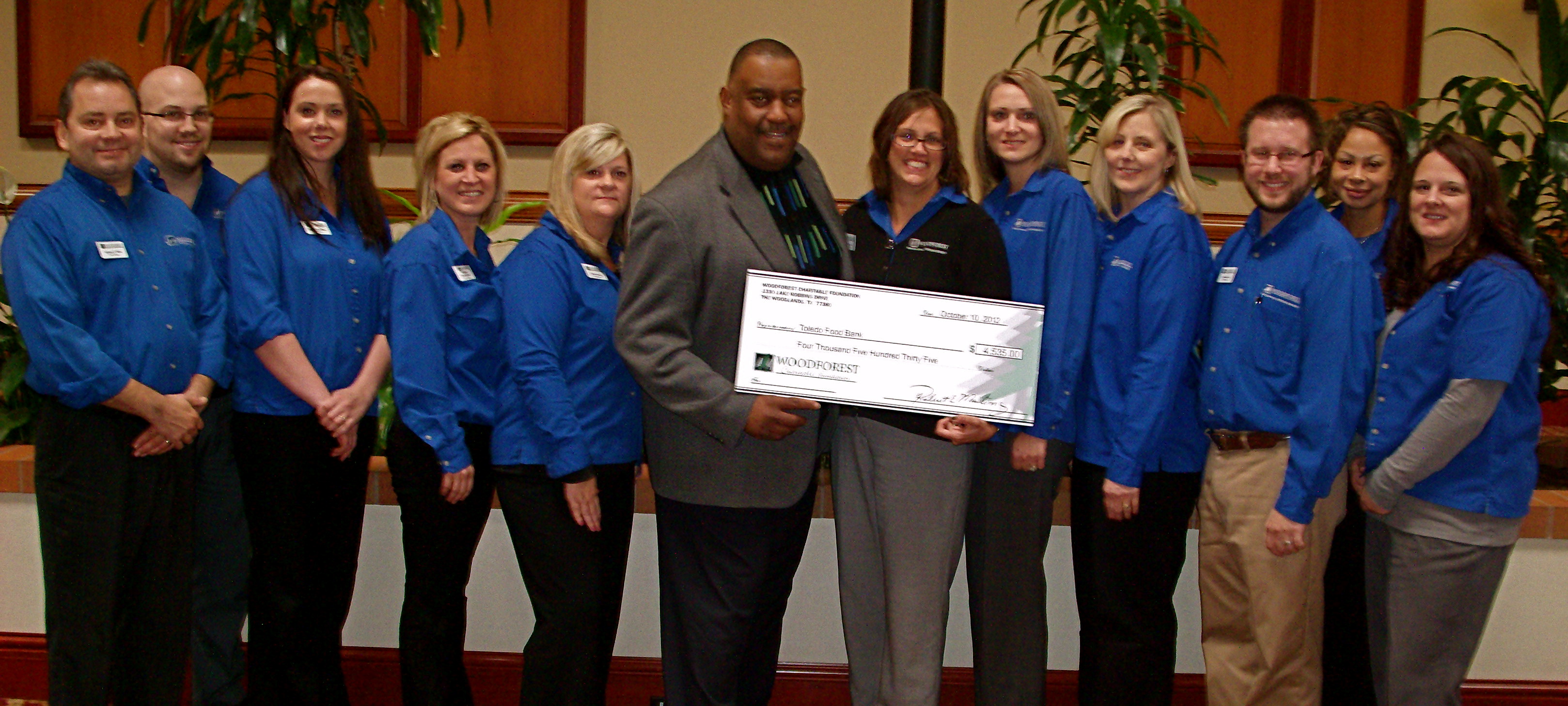 ---
TOLEDO, OH – Toledo Northwestern Ohio Food Bank receives a generous donation of $4,535 from Woodforest Charitable Foundation.
Over the past 26 years Toledo Northwestern Ohio Food Bank has distributed over 76 million pounds of food and grocery products to our member agencies. Currently, the Food Bank partners with 300 member agencies in 8 counties every year to fight hunger in Northwest Ohio.
More than 33% of children in the Toledo Northwestern Ohio Food Bank service are qualify for free or reduced price meals through the National School Lunch Program, with many having nothing to eat on weekends and school vacations. The Food Bank's Backpack Program is in place to help children receive the nutritious and easy-to-prepare food they need when school is not in session. With more than 2,300 backpacks being distributed to children on an annual basis, volunteers meet on a weekly basis to sort food and fill the backpacks for children to discreetly take home on Friday afternoons.
Toledo Northwestern Food Bank also offers a Kids Café program to meet the daily needs of low-income children. The program provides free meals and snacks to children facing hunger in a safe location where kids can participate in nutritional education, academic studies and recreational activities. In 2012, the Kids Café Program has provided 6,000 meals to students. For some participants, the meal they receive at Kids Café is their last meal until the school breakfast program resumes on the following day.
"Thank you so much for the charitable contribution from Woodforest Charitable Foundation to support our Kids Café and Backpack Program at the Toledo Northwestern Ohio Food Bank. One in five children goes to bed hungry every day. This grant will help provide nutritious meals to children who are at risk of being food deprived. Again, thank you for your generous donation to the Toledo Northwestern Ohio Food Bank," said James Caldwell, President & CEO of Toledo Northwestern Ohio Food Bank.
For more information on Woodforest Charitable Foundation's contributions to this organization, please contact this agency directly at (419) 242-5000 or visit www.toledofoodbank.org
The Woodforest Charitable Foundation was created by Woodforest National Bank in 2005 as a direct result of its desire to support and invest in the communities in which it serves. The Foundation is creating a legacy of commitment to those in need, enriching lives and communities through dedicated leadership and faithful administration by providing funding to qualifying 501(c) (3) charities. For additional information regarding The Woodforest Charitable Foundation, call (832) 375-CARE (2273) or visit the foundation's website at www.woodforestcharitablefoundation.org .
Celebrating 32 years of service and ranked among the top earning banks in the United States, the Woodforest family of banks currently has assets of approximately $3.7 billion and services more than 1 million customers with branches in excess of 780 throughout 17 states: Texas, Alabama, Florida, Georgia, Illinois, Indiana, Kentucky, Louisiana, Maryland, Mississippi, New York, North Carolina, Ohio, Pennsylvania, South Carolina, Virginia and West Virginia. For information about Woodforest National Bank, please call 832-375-2000 or visit the bank's website at www.woodforest.com.