Local charities recognized with donations at Woodforest Charitable Foundation's Charity Partnership Luncheon U.S. Congressman Kevin Brady presented the Foundation's donations totaling $245,000 to 27 non-profits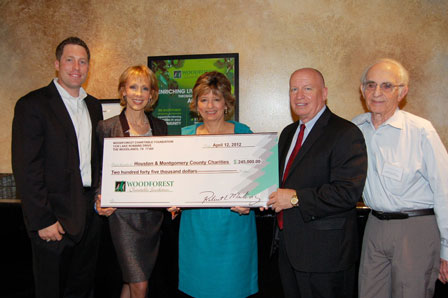 ---
The Woodlands, TX (April XX, 2012) – Demonstrating its mission of enriching lives through the act of giving, Woodforest Charitable Foundation distributed a total of $245,000 in donations to 27 charities it currently supports during a Charity Partnership Luncheon held April 12 at Amerigo's Grille in The Woodlands.
"Those in need can be friends or loved ones, but oftentimes they are strangers", said Kim Marling, vice president and executive director of the Foundation. "Charitable organizations do so much to enrich the lives of others, from providing emergency assistance, community clinics, homes for wounded soldiers, and shelter for abused women and children and the homeless, to youth mentoring, providing programs for the mentally and physically challenged, reducing the trauma of abused children, and so much more."
United States Congressman Kevin Brady from the 8th Congressional District of Texas, was present to personally hand each charity's representative a donation. Congressman Brady commended each charity for their work and the contributions they have made to the community, and recognized the partnership and support that the Foundation has made to help the charities attain their missions.
The recipient charities included Boys & Girls Country, Bridgewood Farms, Children's Miracle Network, Children's Safe Harbor, Conroe Family YMCA, Grief Resource Center, Habitat for Humanity, Healing Species Texas, Helping A Hero, Houston Food Bank, Interfaith Community Clinic, Interfaith of The Woodlands, Life Beyond Cancer Foundation, Montgomery County Emergency Assistance, Montgomery County Food Bank, Montgomery County Homeless Coalition, Montgomery County Women's Center, Montgomery County Youth Services, North Channel Assistance Ministries, Panther Creek Inspiration Ranch, Special Angels of The Woodlands, Tamina Community Center, Texas New Community Alliance (dba New Danville), The Friendship Center, The Rose, TOMAGWA HealthCare Ministries, and Youth-Reach Houston.
The Woodforest Charitable Foundation was created by Woodforest National Bank in 2005 as a direct result of its desire to support and invest in the communities in which it serves. Each year, the bank contributes to the Foundation. In 2011 the bank provided an additional $3,000,000 to the endowment of the Woodforest Charitable Foundation demonstrating their steadfast resolve in providing a legacy of community support. The Foundation is committed to assisting those in need, enriching lives and communities through dedicated leadership and faithful administration by providing funding to qualifying 501(c)(3) charities. Over the last six years, the Foundation has made over 530 contributions to a variety of charitable organizations in the 17 states where Woodforest branches operate with donations in excess of $2,400,000.
"We find it befitting to honor those who do so much for our community as we present each charity with our 2012 donation," said Marling. "It is the Foundation's responsibility to be good stewards of the donations we receive and to address the needs in our community. It is our pleasure to distribute these donations during our Charity Partnership Luncheon, which was graciously underwritten by Woodforest National Bank." Marling said the growth of the Foundation is an essential step in achieving and maintaining their commitment. "Through combined efforts, Woodforest Charitable Foundation has made a significant impact in communities locally and across the country and has assisted many in overcoming difficult challenges. We thank everyone who has played an instrumental part in our ability to do so," she said.
For additional information regarding The Woodforest Charitable Foundation, call (832) 375-CARE (2273) or visit the foundation's website at www.woodforestfoundation.org.
About Woodforest National Bank:For over 31 years, Woodforest National Bank has successfully stood among the strongest community banks in the nation, proudly offering unsurpassed quality customer service since 1980. Woodforest National Bank offers both consumer and business products and services at 765 branches in 17 states across the United States. It is committed to earning customer loyalty by offering the highest level of customer service and competitive products and services by employees who are fair, responsive and professional. For more information about Woodforest National Bank, please call 832-375-2000 or visit the bank's web site at www.woodforest.com.