Woodforest Charitable Foundation donates $800 to Westmoreland County Food Bank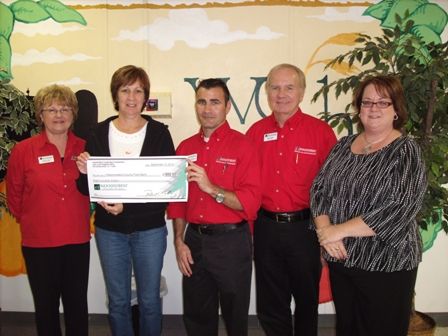 ---
DELMONT, PA – Westmoreland County Food Bank welcomes an $800 gift from Woodforest Charitable Foundation. The donation will support their Weekend Backpack Program.
The Weekend Backpack Program is designed to help feed children over the weekend and during school breaks when other resources may not be available to them. Each child who is identified as needing assistance is provided a backpack with enough nourishing and child-friendly food to hold them over until school begins again on Monday. Statistics and research has shown that a child that is nutritionally sound is more alert and focused. Each week approximately 175 children receive a backpack of child-safe foods to take home with them.
"On behalf of Westmoreland County Food Bank, thank you for your generous donation of $800 to support the Weekend Backpack Program," said Marlene Kozak, CEO of Westmoreland County Food Bank. "Donations play a critical role in the food bank's important vision to end hunger in Westmoreland County. We are proud to have Woodforest as our partner in the fight against hunger."
The Westmoreland County Food Bank is a private, not-for-profit organization that supplies food to hungry people through a network of food assistance programs in Westmoreland County. Located in Delmont, Pennsylvania, the Food Bank serves over 7,000 disadvantaged families each month.
For more information about Westmoreland County Food Bank, please call (724)468.866 or visit www.westmorelandfoodbank.org.
The Woodforest Charitable Foundation was created by Woodforest National Bank in 2005 as a direct result of its desire to support and invest in the communities in which it serves. The Foundation is creating a legacy of commitment to those in need, enriching lives and communities through dedicated leadership and faithful administration by providing funding to qualifying 501(c)(3) charities. For additional information regarding The Woodforest Charitable Foundation, call (832) 375-CARE (2273) or visit the Foundation's website at www.woodforestcharitablefoundation.org.
Celebrating 30 years of service and ranked among the top earning banks in the United States, the Woodforest family of banks currently has assets of approximately $3.2 billion and services more than 850,000 customers with branches in excess of 750 throughout seventeen states: Texas, Alabama, Florida, Georgia, Illinois, Indiana, Kentucky, Louisiana, Maryland, Mississippi, New York, North Carolina, Ohio, Pennsylvania, South Carolina, Virginia and West Virginia. For information about Woodforest National Bank, please call 832-375-2000 or visit the bank's website at www.woodforest.com.