Woodforest Charitable Foundation Donates to the East Texas Food Bank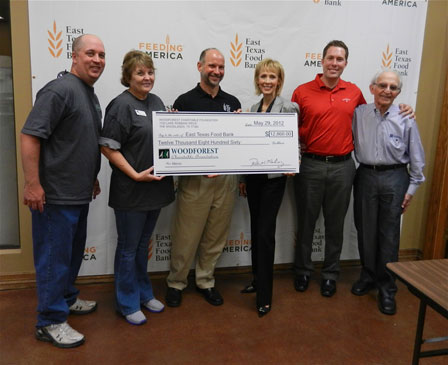 ---
(Tyler, Texas) June 12, 2012 – The Woodforest Charitable Foundation presented a check to the East Texas Food Bank for $12,860 to support the BackPack Program, Senior Servings and emergency food assistance. The funds will be equally distributed to support efforts in Bowie, Cass, Gregg, Harrison, Henderson, Rusk, Shelby, Smith, Titus and Van Zandt counties to provide nutritious meals to children and seniors who are at risk of hunger.
"We are truly grateful to the Woodforest Charitable Foundation for their passion to support the communities in which they serve," said Dennis Cullinane, executive director of the East Texas Food Bank. "It's heartwarming to know that we have such devoted donors of money, time and resources in our fight against hunger in East Texas."
The Woodforest Charitable Foundation has been a generous supporter of the East Texas Food Bank since 2009, donating over $60,000 in support. Since inception in 2005, Woodforest Charitable Foundation has given more than $1.2 million dollars to food banks in the communities where Woodforest National Bank serves. This year, Woodforest Charitable Foundation will donate more than $350,000 to food banks/feeding programs in 17 states.
"At Woodforest Charitable Foundation, we understand that hunger is a community issue that knows no boundary and is increasing at a rapid pace," said Kim Marling, Vice President and Executive Director of Woodforest Charitable Foundation. "As more families look to food banks for assistance, Woodforest Charitable Foundation will continue to partner with agencies such as the East Texas Food Bank on the fight against hunger."
About The Woodforest Charitable Foundation and Woodforest National Bank
The Woodforest Charitable Foundation was created by Woodforest National Bank in 2005 as a direct result of its desire to support and invest in the communities in which it serves. The Foundation is creating a legacy of commitment to those in need, enriching lives and communities through dedicated leadership and faithful administration by providing funding to qualifying 501(c)(3) charities. For additional information regarding The Woodforest Charitable Foundation, call (832) 375-care (2273) or visit the foundation's website at www.woodforestcharitablefoundation.org .
Celebrating 33 years of service and ranked among the top earning banks in the United States, the Woodforest family of banks currently has assets of approximately $3.2 billion and services more than 1 million customers with branches in excess of 760 throughout seventeen states: Texas, Alabama, Florida, Georgia, Illinois, Indiana, Kentucky, Louisiana, Maryland, Mississippi, New York, North Carolina, Ohio, Pennsylvania, South Carolina, Virginia and West Virginia. For information about Woodforest National Bank, please call 832-375- 2000 or visit the bank's website at www.woodforest.com.
About East Texas Food Bank
The East Texas Food Bank distributed over 18 million pounds of food each year to over 200 partner agencies in 26 East Texas counties. Our vision is for a hunger-free East Texas and our mission is to reduce hunger by providing food, support and education to those in need with passion and efficiency. Our purpose is to ensure that no one in East Texas is forced to go without food. The East Texas Food Bank is a member of Feeding America and the Texas Food Bank Network. To learn more, please visit www.EastTexasFoodBank.org. Find us on Facebook at facebook.com/etfoodbank or follow our news on Twitter at twitter.com/etfoodbank.