5 CELEBRITY CHEFS CREATE CULINARY EXTRAVAGANZA FOR WOODFOREST CHARITABLE FOUNDATION Generous chefs and guests gather for 3rd annual "Connoisseurs for Charity" exclusive fundraiser to benefit several local charities.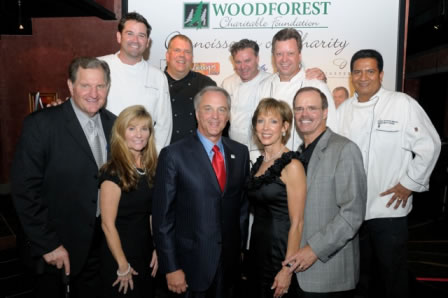 ---
THE WOODLANDS, TX (January, 2010) Serving the needs of others was definitely on the menu when five top-rated celebrity chefs worked their magic to make the third annual "Connoisseurs for Charity" another outstanding fundraising success for Woodforest Charitable Foundation.
Held last fall at Amerigo's grille in The Woodlands, which restaurateurs Casey and Nancy Kosh closed to the public to accommodate the by-invitation-only event, the intimate gala was considered as one of the most unique local fundraising venues of the year.
Over 136 guests were tantalized by the presentations of five delicious courses each personally created by one of the famous chefs and paired with a fine wine, resulting in an amazing culinary extravaganza.
The creative experience brought together a stellar team of top-ranked celebrity chefs in the state and country representing fine restaurants from the Houston and The Woodlands area. They included:
Chef Bryan Caswell of REEF, named as Bon Appetit's "Best Seafood Restaurant in America," and among 2009 Travel & Leisure "USA's 50 Top New Restaurants", and as 2008 Food & WineBest New Chef, and is a recipient of Houston Culinary Awards "Up and Coming Chef of the Year." He prepared the first course of yellowtail Sashimi with smoked sesame oil and pickled watermelon salad, paired with Perrier Jouet English Brut.
Chef Kent Rathbun of JASPER'S, who is an "Iron Chef America" winner, a James Beard Foundation's "Best Chef – Southwest Region" nominee, and recipient of the D Magazine "Best Chef" Award and Nation's Restaurant News "Hot Concepts Award." He presented crispy seared diver scallop – truffle – parsnip puree, pink grapefruit – fennel soup, pared with a Peter Michael, "L'apres-Midi," Sauvignon Blanc, Sonoma County.
Chef Charles Clark of Ibiza Food and Wine Bar, who is an "Iron Chef" runner up, and a recipient of the Houston Culinary Awards "Restaurateur of the Year" award, and was named in H Texas Magazine's "2006-07-08 Top Ten Chefs in Houston." He created a duck confit, with lady cream peas and wilted frissee, pared with a Bergstrom, Cumberland Reserve, Williamette Valley, Oregon 2006.
Chef Mark Cox of MARK'S American Cuisine, recognized among Zagat's "Best Restaurants of the World" for 2009, and Zagat's Survey of "Top Ten Restaurants in the United States" in 2006-2007, and is the recipient of Nation's Restaurant News "Hall of Fame Award" and a 2001-2009 recipient of DiRoNa (Distinguished Restaurants of North America). He served roasted veal tenderloin in a basil crust with white truffle corn custard, purple cauliflower "cous-cous," lobster and abalone mushrooms, pared with Atalon Cabernet Sauvignon, Napa Valley 2003 (in magnums).
Chef Arturo Osorio of Amerigo's Grille, who has been the featured chef at Amerigo's grille since opening day in 1994 and was named among H Texas Magazine's "2006 Top Ten Chefs in Houston." He delivered the final course of white chocolate and fresh blueberry bread pudding, drizzled with a light bourbon sauce, and paired with a Quinta Do Noval 1991 Vintage Porto.
The ambiance became even livelier when the energetic emcee Ralph McIngvale stepped up on stage to launch the live auction of first-class packages, leading several philanthropists to open their hearts and vie for the exciting catches.
Among the highly-coveted and luxurious live auction items were:
a private golf tournament for 48 at Woodforest Golf Club at Fish Creek with an HP Championship Pro-Am Foursome at the Administaff Small Business Classic, donated by Woodforest Golf Club;
an exclusive Houston Rockets package complete with a Road Trip for four on the team plane with hotel accommodations, a round of golf, and dinner with the players and coaches, as well as a Houston Rockets game experience completed with four Owner's Courtside seats and six Club seats for a home game with a team autographed ball and a catered dinner for ten prior to the game, donated by Leslie Alexander & the Houston Rockets;
eight premier tickets and airfare to the Dallas Cowboys vs. Washington Redskins football game at the Cowboys Stadium in Arlington, Texas, along with 6 club level tickets to the Houston Texans vs. New England Patriots football game at Reliant Stadium in Houston, Texas, donated by Woodforest National Bank;
six bottles of Château Margaux, Margaus 1995, donated by Casey & Nancy Kosh and coupled with a exclusive wine cellar dinner for twelve donated by Dr. Lloyd and Jacque Everson;and an Aspen, Colorado trip at Aspen Highlands for seven nights with roundtrip airfare for six, donated by Woodforest National Bank.
But perhaps the most coveted live auction item was a private dinner for 40 prepared by all five chefs in the winning bidder's home.
"We were deeply touched and grateful for the commitment and generosity of the guests, the celebrity chefs, and all who helped make our Connoisseurs for Charity event another amazing success," said Kim Marling, Executive Director of Woodforest Charitable Foundation. "Especially in today's economy, it is more important than ever before to support our local charities that do so much for those who are in need."
Robert Marling, President of the Woodforest Charitable Foundation, added, "We truly appreciate what was achieved at this year's gala. We not only thank the support that was returned from these outstanding chefs and our humanitarian guests, but we are also thankful for the support from our friends, customers, vendors, and employees of Woodforest National Bank. By coming together, the Woodforest Charitable Foundation is able to enrich the lives of those in need within our communities."
Unique to this fundraiser, the Foundation and Woodforest National Bank underwrote the expense of the dinner event and the administrative costs, allowing for 100 percent of the evening's ticket sales to directly benefit charity. Through "Charity Selection" cards placed at each place setting, the Foundation offered guests the opportunity to direct their contribution to one of the evening's pre-selected charities, which included Boys & Girls Country, Interfaith of The Woodlands, Montgomery County Women's Center, Montgomery County Youth Services, Texas New Community Alliance (New Danville), The Community Clinic, and The Friendship Center.
Among the guests were former Houston Rockets' CEO Tad Brown and his wife Janice, Dallas Mavericks head coach Avery Johnson and his wife Cassandra,Jim and Nelda Blair, Dr. Lloyd and Jacque Everson, Mike Gatewood, Gerald and Candi Glenn, Dr. David and Brenda Gottlieb, Dr. Guy and Holly Lewis, George and Catherine Lindahl, Brian and Lorri Petrauskas, Richie Ray, Michael and Vicki Richmond, Steve and Kathy Sanders, Dr. Steven and Debbie Sukin, and Jerry and Dr. Ann Snyder.
Celebrating 30 years of service and ranked among the top earning banks in the United States, the Woodforest family of banks currently has assets of approximately $3.2 billion and services more than 770,000 customers with branches in excess of 700 throughout fifteen states: Texas, Alabama, Illinois, Indiana, Kentucky, Louisiana, Maryland, Mississippi, New York, North Carolina, Ohio, Pennsylvania, South Carolina, Virginia and West Virginia. For information about Woodforest National Bank, please call 832-375-2000 or visit the bank's website at www.woodforest.com.