Woodforest Charitable Foundation Donates $400 to the Regional Food Bank of Northeastern New York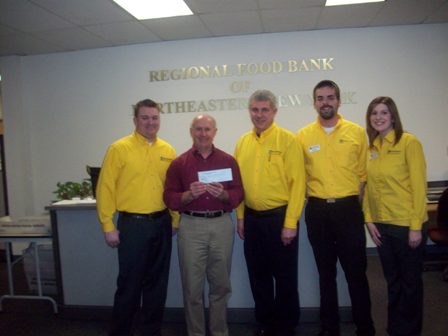 ---
LATHAM, New York (January, 2010)- The Regional Food Bank of Northeastern New York receives a $400 donation from the Woodforest Charitable Foundation.
Each year, the Regional Food Bank provides emergency food assistance to approximately 195,700 people in the community, including 49,000 children and 13,000 seniors. Woodforest Charitable Foundation's recent partnership with the Regional Food Bank will help support its Kids Café and BackPack programs.
Established in 1982, the Regional Food Bank of Northeastern New York helps feed the needy through its 1,000+ member agencies. The Food Bank collects large donations of food and distributes it to charitable agencies serving hungry and disadvantaged people in 23 northeastern counties. In a given week, approximately 40,100 people receive emergency food assistance; nearly 50 percent of those are children. In response to this crisis, the Regional Food Bank of Northeastern New York proudly supports Kids Café and BackPack programs.
The Regional Food Bank of Northeastern New York opened its first Kids Café program in 2003. The Kids Café program provides free meals and snacks to low-income children through a variety of community organizations. In addition to providing hot meals to hungry kids, Kids Cafés offer a safe place where, under the supervision of trustworthy staff, children can get involved in educational, recreational and social activities.
The mission of the BackPack Program is to help alleviate child hunger in America by providing underserved children with nutritious and easy to prepare food at times when other resources are not available, such as weekends. The program provides backpacks filled with food that is child-friendly, shelf-stable and easily consumed. These backpacks are discreetly distributed to the children on Friday afternoons. The Food Bank currently sponsors the BackPack Program at seven different schools in four northeastern counties; Albany, Rensselear, Schoharie and Warren.
For more information about the Regional Food Bank of Northeastern New York, please call (518) 786-3691, send an e-mail to info@regionalfoodbank.net or visit www.rfbneny.com.
The Woodforest Charitable Foundation was created by Woodforest National Bank in 2005 as a direct result of its desire to support and invest in the communities in which it serves. The Foundation is creating a legacy of commitment to those in need, enriching lives and communities through dedicated leadership and faithful administration by providing funding to qualifying 501(c)(3) charities. For additional information regarding The Woodforest Charitable Foundation, call (832) 375-CARE (2273) or visit the foundation's website at www.woodforestcharitablefoundation.org.
Celebrating 30 years of service and ranked among the top earning banks in the United States, the Woodforest family of banks currently has assets of approximately $3.2 billion and services more than 770,000 customers with branches in excess of 700 throughout fifteen states: Texas, Alabama, Illinois, Indiana, Kentucky, Louisiana, Maryland, Mississippi, New York, North Carolina, Ohio, Pennsylvania, South Carolina, Virginia and West Virginia. For information about Woodforest National Bank, please call 832-375-2000 or visit the bank's website at www.woodforest.com.