Woodforest Charitable Foundation donates $54,000 to Children's Miracle Network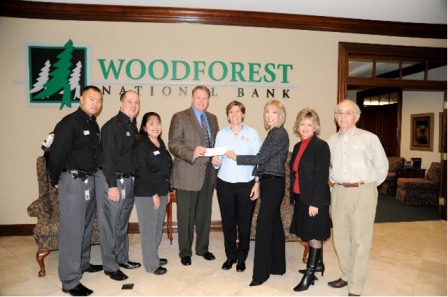 ---
THE WOODLANDS, Texas -- The Woodforest Charitable Foundation recently donated $54,000 to Children's Miracle Network, the alliance of premier children's hospitals.
Every year, Children's Miracle Network hospitals treat 17 million children for every disease and injury imaginable. Children's Miracle Network hospitals impact the lives of more children than any other children's organization in the world. Children's hospitals provide state-of-the-art care, life-saving research and preventative education for children 24 hours a day, 365 days a year. There are 170 Children's Miracle Network hospitals dedicated to serving children in United States and Canada. These hospitals are committed to providing the best care for children when they need it.
"The success of Children's Miracle Network is attributed to the commitment of companies like Woodforest National Bank that understand the importance of giving back to the communities where their employees and customers live," said Rod Hamson, Vice President of Corporate Development for Children's Miracle Network. "The local Children's Miracle Network hospitals are an important part of these communities."
Kim Marling, Vice President of Woodforest Charitable Foundation, said, "We are delighted to present this donation to Children's Miracle Network, as they help to ensure that children have the specialized care they need and deserve regardless of their family's ability to pay. Our Foundation is committed to supporting such organizations that impact children who are in need, as we are dedicated to enriching lives and communities through education, health, social, and public service programs."
For additional information regarding The Woodforest Charitable Foundation, call 832 375-CARE (2273) or visit the foundation's website at www.woodforestcharitablefoundation.org.