Woodforest Charitable Foundation donates $5,000 to YMCA's Willis Recreation Center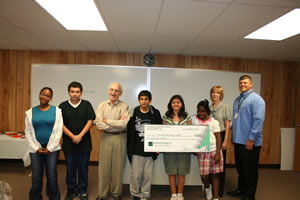 ---
THE WOODLANDS, Texas -- Woodforest Charitable Foundation recently presented a $5,000 contribution to the Conroe Family YMCA's Recreation Center in Willis.
In 2007, the Conroe Family YMCA, Willis Independent School District and the City of Willis' Community Development Corporation entered into a partnership arrangement to enhance after-school programming by providing positive, fun, creative, community beneficial activities in a safe, caring environment.
This project is to provide programs suitable to junior high aged youth. The aspects and service of the programs will include after school supervision by YMCA staff, nutritious snacks, homework time and tutorial assistance, recreational activities and group games, arts & crafts activities and adult mentoring programs. Financial support by the community is essential for the ongoing success of the Willis Teen Program.
The Willis Teen Program was launched in the spring of 2008 with the Conroe Family YMCA operating an after-school program in an existing Willis school site with some financial support of the Willis Community Development Corporation. Providing positive, fun, creative, and beneficial activities in a safe, caring environment, more than 40 teens were participating by the end of the school year last May.
To assist in this important community program, Kim Marling and David Gottlieb presented the Willis Teen Center a check for $5,000 on behalf of the Woodforest Foundation.
"Financial support by the community is essential for the ongoing success of the Willis Teen Program," explained Gary Louie, Director of Development – North Group for the YMCA. "We are grateful for the assistance we have received from caring community groups such as Woodforest Charitable Foundation as their support enables us to continue this important program for youth."
Kim Marling, Vice President of Woodforest Charitable Foundation, added, "The Foundation is delighted to support a program that is designed to allow young people the opportunity to develop into valued community members while instilling in them important core values, as well as providing good, positive mentors."
First organized in 1886, the YMCA of Greater Houston's mission is to put Judeo-Christian principles into practice through programs that build healthy spirit, mind and body for all. The YMCA seeks to serve those of all faiths, or none. To learn more, call (963) 441-9622 or visit the web at www.ymcahouston.org.
The Woodforest Charitable Foundation was created by Woodforest National Bank in 2005 as a direct result of its desire to support and invest in the communities in which it serves. The Foundation is creating a legacy of commitment to those in need, enriching lives and communities through dedicated leadership and faithful administration by providing funding to qualifying 501(c)(3) charities.
For additional information regarding The Woodforest Charitable Foundation, call (832) 375-CARE (2273) or visit the foundation's website at www.woodforestcharitablefoundation.org.