Woodforest Charitable Foundation donates $1,000 to Action in Community Through Service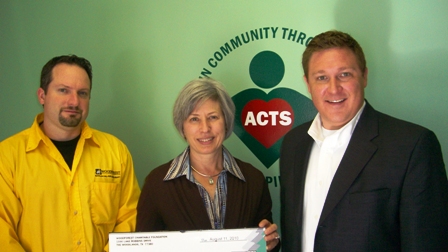 ---
DUMFRIES, VA – Action in Community Through Service receives $1,000 from Woodforest Charitable Foundation. This contribution will support the organization's Food Pantry.
Action in Community Through Service is a private, non-profit organization serving the residents of the Greater Prince William Area. In 1969, thirteen local churches came together with the purpose of preventing and alleviating human suffering. Woodforest Charitable Foundation's recent donation will support ACTS' mission of alleviating hunger, homelessness and domestic violence and to help people achieve self-sufficiency
"The Woodforest Charitable Foundation is pleased to offer support to this very worthy organization," said Kim Marling, Executive Director & Vice President of Woodforest Charitable Foundation. "We challenge others to join Woodforest's efforts to end hunger in America."
For more information about Action in Community Through Service, please call (703) 441-8606 or visit www.actspwc.org.
The Woodforest Charitable Foundation was created by Woodforest National Bank in 2005 as a direct result of its desire to support and invest in the communities in which it serves. The Foundation is creating a legacy of commitment to those in need, enriching lives and communities through dedicated leadership and faithful administration by providing funding to qualifying 501(c)(3) charities. For additional information regarding The Woodforest Charitable Foundation, call (832) 375-CARE (2273) or visit the Foundation's website at www.woodforestcharitablefoundation.org.
Celebrating 30 years of service and ranked among the top earning banks in the United States, the Woodforest family of banks currently has assets of approximately $3.2 billion and services more than 850,000 customers with branches in excess of 750 throughout seventeen states: Texas, Alabama, Florida, Georgia, Illinois, Indiana, Kentucky, Louisiana, Maryland, Mississippi, New York, North Carolina, Ohio, Pennsylvania, South Carolina, Virginia and West Virginia. For information about Woodforest National Bank, please call 832-375-2000 or visit the bank's website at www.woodforest.com.