Woodforest Charitable Foundation supports mentally challenged adults with contribution to Bridgewood Farms and Special Angels of The Woodlands.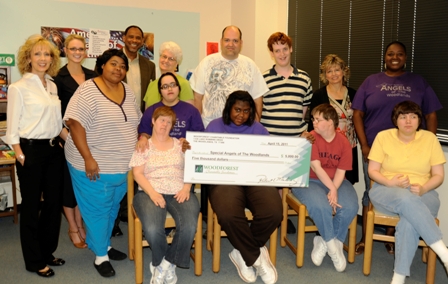 ---
THE WOODLANDS, TX - In support of adults with mental challenges, Woodforest Charitable Foundation recently made a combined donation of $10,000 to Bridgewood Farms and Special Angels of The Woodlands.
Bridgewood Farms provides day programs and services for individuals with special needs and is located in Conroe, TX. In partnership with the local community, they enable individuals who are intellectually disabled to reach their highest potential. According to Enid Goodman, Administrator of Bridgewood Farms, through continual education, these adults learn and improve their functional skills, acquire meaningful job skills for the possibility of working in the community, experience the joys that come with their accomplishments at the Center, and grow socially and emotionally. For more information about Bridgewood Farms, call (936) 856-6460 or visit www.bridgewoodfarms.org.
The Foundation's donation of $5,000 to Bridgewood Farms was followed by an additional $5,000 contribution to Special Angels of The Woodlands, which also provides a day activity center for mentally challenged adults and emphasizes the Special Olympics Program. Both organizations strive to provide services that allow individuals with intellectual disabilities to enhance their potential through community participation, self development, and the experience of success.
The Woodforest Charitable Foundation was created by Woodforest National Bank in 2005 as a direct result of its desire to support and invest in the communities in which it serves. In its sixth year, Woodforest Charitable Foundation continues to demonstrate a legacy of commitment to those in need, enriching lives and communities through dedicated leadership and faithful administration by providing funding to qualifying 501(c)(3) charities. For additional information regarding The Woodforest Charitable Foundation, call (832) 375-CARE (2273) or visit the foundation's website at www.woodforestcharitablefoundation.org.