Woodforest Charitable Foundation makes a $1,000 donation to Angel Ranch, Inc.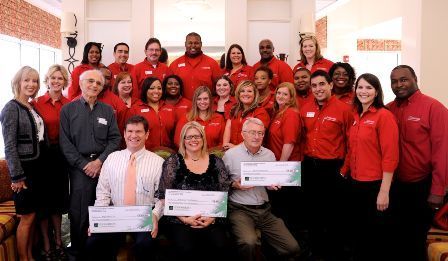 ---
OXFORD, MS – Angel Ranch, Inc. welcomes a $1,000 donation from Woodforest Charitable Foundation.
An estimated 906,000 children were victims of child abuse or neglect in 2003 (U.S. Department of Health and Human Services, 2005). While physical injuries may or may not be immediately visible, abuse and neglect can have consequences for children, families, and society that last lifetimes, if not generations. Woodforest Charitable Foundation's recent donation of $1,000 will assist Angel Ranch's efforts in providing emergency shelter services to abused and neglected children.
Since 2006, Angel Ranch has offered a safe haven for children and youth who are in crisis. Their goal is to reduce the emotional trauma by providing services and quality care in a safe and nurturing environment where each child and young adult can begin to heal. Since inception Angel Ranch has served 107 children from 28 Mississippi counties.
Angel Ranch recently changed its focus from a temporary shelter to a permanent home for abused and neglected girls in the legal custody of MS Department of Human Services whose crimes against them are being legally reviewed. The Ranch maintains a licensed residential group home in Lafayette County which can care for six young women ages 14-21 who are victims of violent crimes referred by Mississippi law enforcement. "It is extremely unfortunate when any child is a victim of abuse and/or neglect. Angel Ranch provides valuable services to these children in addition to helping with the healing process," said Kim Marling, Executive Director/Vice President of Woodforest Charitable Foundation. "The Foundation is pleased to support this wonderful organization dedicated to offering hope and opportunities to so many children."
For more information about Angel Ranch, Inc., please call (662) 234-3320 or visit www.angelranch.org.
The Woodforest Charitable Foundation was created by Woodforest National Bank in 2005 as a direct result of its desire to support and invest in the communities in which it serves. The Foundation is creating a legacy of commitment to those in need, enriching lives and communities through dedicated leadership and faithful administration by providing funding to qualifying 501(c)(3) charities. For additional information regarding The Woodforest Charitable Foundation, call (832) 375-CARE (2273) or visit the Foundation's website at www.woodforestcharitablefoundation.org.
Celebrating 30 years of service and ranked among the top earning banks in the United States, the Woodforest family of banks currently has assets of approximately $3.2 billion and services more than 850,000 customers with branches in excess of 750 throughout seventeen states: Texas, Alabama, Florida, Georgia, Illinois, Indiana, Kentucky, Louisiana, Maryland, Mississippi, New York, North Carolina, Ohio, Pennsylvania, South Carolina, Virginia and West Virginia. For information about Woodforest National Bank, please call 832-375-2000 or visit the bank's website at www.woodforest.com.