Woodforest Charitable Foundation donates $1,000 to Bay Area Food Bank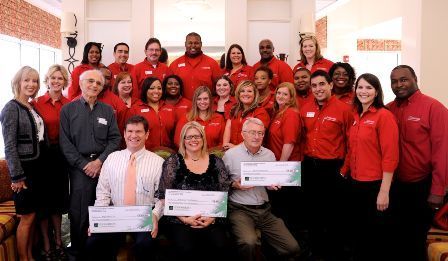 ---
MISSISSIPPI – Woodforest Charitable Foundation makes a $1,000 donation to Bay Area Food Bank.
Weekends are a critical time of need for millions of children who receive free and reduced-price meals during the school year. According to a national study, Hunger in America 2010, 83% of all client households with children served by Bay Area Food Bank are food insecure. To address this issue, Woodforest Charitable Foundation's donation will be used to support Bay Area Food Bank's Kids Café and Backpack Programs.
Kids Café is an after-school program that offers tutoring, nutrition education, mentoring, and healthy meals to children at risk of hunger. The Backpack program sends nutritious, shelf stable food home on Friday with children who may not receive enough food over the weekend. The backpacks include items like milk, cereal, peanut butter, canned tuna or ravioli, and granola bars, all of which can be carried home easily and eaten safely without preparation or cooking.
"Many of the children we serve rely on free and reduced price meals at school to receive their nourishment and get very little to eat at home. With the Kids Café and Backpack programs we are able to provide food to more than 4,000 children," said David Reaney, Executive Director of Bay Area Food Bank. "We are extremely grateful for the Foundation's continued support of our child nutrition work in Mississippi."
Established in 1981, Bay Area Food Bank supports over 700 feeding programs at more than 550 agencies throughout 24 counties. The Food Bank partners with a variety of organizations such as: food pantries, shelters, soup kitchens, day cares and senior programs in an effort to eliminate hunger along the central gulf coast. Bay Area Food Bank also operates the following child nutrition programs: Kids Café, Summer Food Service, Super Snack, and the Backpack Program.
For more information about Bay Area Food Bank, please call 888-704- FOOD (3663) or visit www.bayareafoodbank.org.
The Woodforest Charitable Foundation was created by Woodforest National Bank in 2005 as a direct result of its desire to support and invest in the communities in which it serves. The Foundation is creating a legacy of commitment to those in need, enriching lives and communities through dedicated leadership and faithful administration by providing funding to qualifying 501(c)(3) charities. For additional information regarding The Woodforest Charitable Foundation, call (832) 375-CARE (2273) or visit the Foundation's website at www.woodforestcharitablefoundation.org.
Celebrating 30 years of service and ranked among the top earning banks in the United States, the Woodforest family of banks currently has assets of approximately $3.2 billion and services more than 850,000 customers with branches in excess of 750 throughout seventeen states: Texas, Alabama, Florida, Georgia, Illinois, Indiana, Kentucky, Louisiana, Maryland, Mississippi, New York, North Carolina, Ohio, Pennsylvania, South Carolina, Virginia and West Virginia. For information about Woodforest National Bank, please call 832-375-2000 or visit the bank's website at www.woodforest.com.