Woodforest Charitable Foundation makes a $4,400 donation to Mississippi Food Network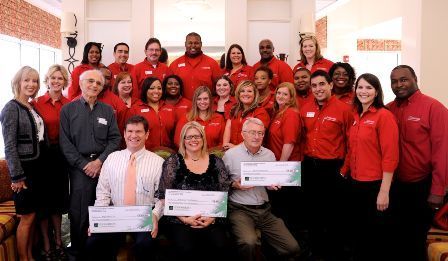 ---
JACKSON, MS – Mississippi Food Network receives a $4,400 donation from Woodforest Charitable Foundation.
Poverty has many faces and many causes. This year more than ever, food banks are seeing drastic need and lower donated supplies. It makes sense that when the economy is at its lowest, the need for the food bank is at its highest. Woodforest Charitable Foundation's recent donation will assist Mississippi Food Network's efforts in eliminating childhood hunger.
Mississippi Food Network opened its first Kids Café in 2007 at the Boys & Girls Club of Washington County in Greenville, MS. Kids Café programs provide free meals and snacks to low-income children through a variety of existing community locations such as after school programs and churches. In September 2008 the Network opened 12 additional Kids Café sites which serve 975 children each day.
Since 2008, the Food Network's BackPack Program has reached out to at-risk elementary school children in Laurel, Vicksburg, Hattiesburg, Crystal Springs, Columbus and Jackson counties. Each week, over 300 children receive a backpack with nutritious food for the weekend, a time they do not always have access to food. "Our hope with the Kids Café and Backpack Programs is to ensure that low-income children have food over the weekend and after school when they do not have access to the school breakfast and lunch programs," said Walker Satterwhite, Executive Director of Mississippi Food Network. "We are so thankful for the Foundation's generous donation in support of our fight against childhood hunger."
Established in 1983, the Mississippi Food Network has been relieving poverty-related hunger by distributing food and grocery products through a network of member churches and nonprofit organizations. Each year, the Mississippi Food Network donates over 3 million pounds of food through its 320 member agencies.
For more information about Mississippi Food Network, please call (601) 353-7286, send an e-mail to info@msfoodnet.org, or visit www.msfoodnet.org.
The Woodforest Charitable Foundation was created by Woodforest National Bank in 2005 as a direct result of its desire to support and invest in the communities in which it serves. The Foundation is creating a legacy of commitment to those in need, enriching lives and communities through dedicated leadership and faithful administration by providing funding to qualifying 501(c)(3) charities. For additional information regarding The Woodforest Charitable Foundation, call (832) 375-CARE (2273) or visit the foundation's website at www.woodforestcharitablefoundation.org.
Celebrating 30 years of service and ranked among the top earning banks in the United States, the Woodforest family of banks currently has assets of approximately $3.2 billion and services more than 770,000 customers with branches in excess of 700 throughout seventeen states: Texas, Alabama, Florida, Georgia, Illinois, Indiana, Kentucky, Louisiana, Maryland, Mississippi, New York, North Carolina, Ohio, Pennsylvania, South Carolina, Virginia and West Virginia. For information about Woodforest National Bank, please call 832-375-2000 or visit the bank's website at www.woodforest.com.