Blue Ridge Area Food Bank receives $6,330 donation from WCF.
13-December, 2012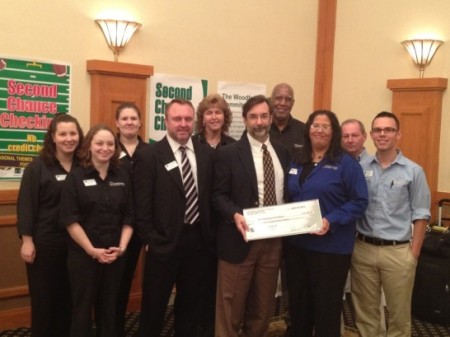 ---
VERONA, VA – Woodforest Charitable Foundation makes a $6,330 donation to Blue Ridge Area Food Bank.
Blue Ridge Area Food Bank is an emergency food assistance agency that serves more than 120,000 people each month. Last year, they distributed more than 17 million meals to hungry families across the Blue Ridge area.
The Food Bank is the largest organization alleviating hunger in western and central Virginia through a network of approximately 250 member agencies. In 2009, Feeding America named the Blue Ridge Area Food Bank the Member of the Year for our outstanding program standards and efficiency.
Through the Food Bank's outreach programs, food is carried directly from the distribution center to the people who need it most. In all, six outreach programs are in place: Four programs focus on children and two programs focus on families and seniors. All of the children's programs are privately funded, making community support vital to their success.
A recent child hunger study revealed that more than 18% of children living in the Blue Ridge region are struggling with hunger – about 60,000 children. One way in which the Food Bank has been tackling child food insecurity is through four afterschool feeding programs. Enrollment in these programs is rising, and the Food Bank has experienced a 12% increase in participation in the past two school years. Of the 60,000 children at risk of hunger in the Blue Ridge region, more than half need Federal food assistance programs (such as SNAP) but are ineligible because they are a little slightly above the poverty line.
"On behalf of Blue Ridge Area Food Bank, thank you for the generous support of our BackPack Program. This will allow us to purchase food for 2,115 students enrolled in the program throughout the Shenandoah Valley and greater Lynchburg area. Please accept our gratitude on behalf of hundreds of children who benefit from this program," said Lawrence Zippin, CEO of Blue Ridge Area Food Bank.
For more information on Woodforest Charitable Foundation's contributions to this organization, please contact this agency directly at (540) 248-3663 or visit www.brafb.org.
The Woodforest Charitable Foundation was created by Woodforest National Bank in 2005 as a direct result of its desire to support and invest in the communities in which it serves. The Foundation is creating a legacy of commitment to those in need, enriching lives and communities through dedicated leadership and faithful administration by providing funding to qualifying 501(c) (3) charities. For additional information regarding The Woodforest Charitable Foundation, call (832) 375-CARE (2273) or visit the foundation's website at www.woodforestcharitablefoundation.org.
Celebrating 32 years of service and ranked among the top earning banks in the United States, the Woodforest family of banks currently has assets of approximately $3.7 billion and services more than 1 million customers with branches in excess of 780 throughout 17 states: Texas, Alabama, Florida, Georgia, Illinois, Indiana, Kentucky, Louisiana, Maryland, Mississippi, New York, North Carolina, Ohio, Pennsylvania, South Carolina, Virginia and West Virginia. For information about Woodforest National Bank, please call 832-375-2000 or visit the bank's website at www.woodforest.com.