Feed More – Central Virginia Food Bank receives $7,000 donation from WCF.
16-April, 2012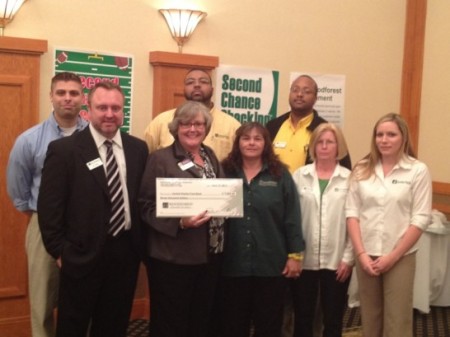 ---
RICHMOND, VA – Central Virginia Food Bank recently received a $7,000 donation from Woodforest Charitable Foundation.
The Central Virginia Food Bank brings hunger relief to 31 counties and five cities through a comprehensive approach that includes acquiring needed foods and distributing these items to communities, families, and individuals that need them to meet their unique needs. Through targeted programs designed to address specific hunger challenges, the Food Bank also works to ensure that the region's most vulnerable populations have access to a reliable source of healthy nutrition. Children's programs offed at the Food Bank include the Kids Cafe Program and the BackPack Program.
The Kids Cafe program is one of the nation's largest meal service programs, conceived by Feeding America—the nation's food bank. The program is a partnership with established afterschool and summer programs that provide safe places for children to meet role models and to participate in activities designed to enhance their educational, physical, and social development. The Kids Cafe Program has been in operation since December 1997, and sites are located in some of the most impoverished communities in the Richmond and Tri-Cities metro area.
The BackPack Program is one of FeedMore's major initiatives to ensure that children in need have balanced, nutritious food they need to learn and grow. The concept is simple: children at risk of weekend hunger receive a bag of food that is child-friendly, nutritious, nonperishable, and easy to prepare. Each BackPack offers enough food that children can easily assemble into six healthy meals over the weekend when schools are unable to provide breakfasts or lunches. By partnering with Communities in Schools, school staff, and local school systems, the Backpacks are discreetly distributed to children in need through the school system each Friday afternoon or before a long holiday weekend.
"With the support from the Woodforest Charitable Foundation, we will continue to make great strides in turning hunger into sustenance for our neighbors in need, hope for our community and promise for our future. Thank you for joining us in the battle against hunger in Central Virginia," said Gayle Hunter Haglund, Chief Philanthropy Officer of Feed More-Central Virginia Food Bank.
For more information on Woodforest Charitable Foundation's contributions to this organization, please contact this agency directly at (804) 521-2500 or visit www.feedmore.org/food-bank.
The Woodforest Charitable Foundation was created by Woodforest National Bank in 2005 as a direct result of its desire to support and invest in the communities in which it serves. The Foundation is creating a legacy of commitment to those in need, enriching lives and communities through dedicated leadership and faithful administration by providing funding to qualifying 501(c) (3) charities. For additional information regarding The Woodforest Charitable Foundation, call (832) 375-CARE (2273) or visit the foundation's website at www.woodforestcharitablefoundation.org.
Celebrating 32 years of service and ranked among the top earning banks in the United States, the Woodforest family of banks currently has assets of approximately $3.7 billion and services more than 1 million customers with branches in excess of 780 throughout 17 states: Texas, Alabama, Florida, Georgia, Illinois, Indiana, Kentucky, Louisiana, Maryland, Mississippi, New York, North Carolina, Ohio, Pennsylvania, South Carolina, Virginia and West Virginia. For information about Woodforest National Bank, please call 832-375-2000 or visit the bank's website at www.woodforest.com.