Foodbank of the Virginia Peninsula receives $3,165 donation from Woodforest Charitable Foundation.
19-April, 2012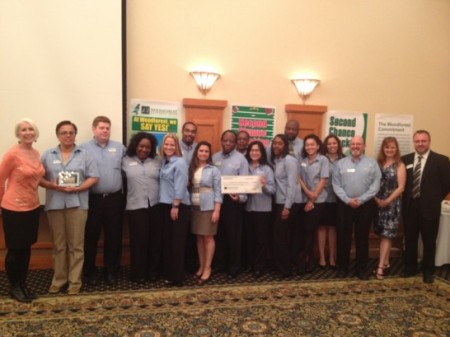 ---
HAMPTON, VA – Woodforest Charitable Foundation makes a $3,165 donation to the Foodbank of the Virginia Peninsula.
Since inception in 1986, the Foodbank of the Virginia Peninsula has distributed over 111 million pounds of food to neighbors in the community. The mission of The Foodbank is to distribute food effectively through collaborative efforts that minimize hunger, promote nutrition and self-reliance through education and their vision is to inspire hope by leading the effort for a hunger-free and properly-nourished community.
The Foodbank of the Virginia Peninsula serves needy individuals in the areas of Newport News, Hampton, Williamsburg, Mathews, Gloucester, York, James City, Surry, and Poquoson. The Foodbank provides emergency food for 1,354,508 duplicated individuals annually, with approximately 10,000 separate people receiving emergency food assistance in any given week - nearly 40% of those receiving aid under 18 years old.
Apart from food assistance programs, the Foodbank also offers a Nutrition, Education, and Self-Sufficiency program that provides training to low income-at risk individuals, empowering them to strive towards meeting personal goals.
The Kids Cafe Program provides a nutritious afternoon meal to children in a safe, caring, and learning environment. During this past school year, there were 27 Kids Cafe sites that served 63,224 hot meals and 108,864 nutritious snacks to an average of 1,131 children each week. The Food for Kids Backpack Program is operated through partnerships with 22 Title-I elementary schools, which have over 50% of students receiving free or reduced price school meals. Each week, the Food Bank provides nutritious bags of food for 1,286 children to eat over the weekends when school meals are unavailable.
"Thank you for belief in our community where we all live and work," said Jeffrey C. Verhoef, Board of Directors President for Foodbank of Virginia Peninsula.
For more information on Woodforest Charitable Foundation's contributions to this organization, please contact this agency directly at (757)596-7188 or visit www.hrfoodbank.org.
The Woodforest Charitable Foundation was created by Woodforest National Bank in 2005 as a direct result of its desire to support and invest in the communities in which it serves. The Foundation is creating a legacy of commitment to those in need, enriching lives and communities through dedicated leadership and faithful administration by providing funding to qualifying 501(c) (3) charities. For additional information regarding The Woodforest Charitable Foundation, call (832) 375-CARE (2273) or visit the foundation's website at www.woodforestcharitablefoundation.org.
Celebrating 32 years of service and ranked among the top earning banks in the United States, the Woodforest family of banks currently has assets of approximately $3.7 billion and services more than 1 million customers with branches in excess of 780 throughout 17 states: Texas, Alabama, Florida, Georgia, Illinois, Indiana, Kentucky, Louisiana, Maryland, Mississippi, New York, North Carolina, Ohio, Pennsylvania, South Carolina, Virginia and West Virginia. For information about Woodforest National Bank, please call 832-375-2000 or visit the bank's website at www.woodforest.com.