Fredericksburg Area Food Bank receives $2,530 donation from Woodforest Charitable Foundation.
19-April, 2012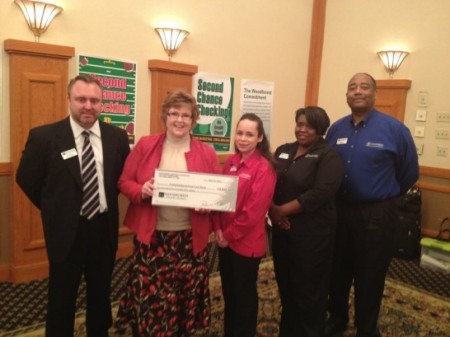 ---
FREDERICKSBURG, VA –Woodforest Charitable Foundation makes a $2,530 contribution to Fredericksburg Area Food Bank.
For 30 years, Fredericksburg Area Food Bank has been working with grocers, food companies, the USDA, and community partners to obtain food and distribute it to more than 70 partner agencies and program partners across the planning district. As a member of the nation's largest non-governmental, domestic hunger relief organization - Feeding America – the Food Bank's goal is to make food accessible to hungry people in their greatest times of need.
The Fredericksburg Area Food Bank continues to distribute more food every year. Local donors provide critical support that allows the Food Bank to continue to feed more people. Local food donors provide over one-third of food donations, sourcing more food locally than government programs and Feeding America donations. Financial donors provide the resources not only to purchase food, but to fund transportation of food donations and support for warehouse operations.
The Food Bank's newest program, Food-4-Kidz Weekend Feeding Program provides nutritious, easy to prepare snack and meal items to supplement at-risk households with nutritious food over the weekends and school vacations when other resources are not available. Individual schools submit the number of students they wish to participate in the Food-4-Kidz program without submitting any identifying information to the Food Bank in order to protect the anonymity of each child receiving food. Once a school has requested, and has been approved to be a Food-4-Kidz site, the children recommended will begin receiving one bag of healthy food options to take home at the end of each school week.
"With the generous support of people like you, we will be able to provide food for hungry people who show up unexpectedly at the food bank. Thank you again for your continued support; together we are hunger's hope," said Oya N. Oliver, Executive Director of Fredericksburg Area Food Bank.
For more information about Fredericksburg Area Food Bank, please call (540) 371-7666 or visit www.fredfood.org.
The Woodforest Charitable Foundation was created by Woodforest National Bank in 2005 as a direct result of its desire to support and invest in the communities in which it serves. The Foundation is creating a legacy of commitment to those in need, enriching lives and communities through dedicated leadership and faithful administration by providing funding to qualifying 501(c) (3) charities. For additional information regarding The Woodforest Charitable Foundation, call (832) 375-CARE (2273) or visit the foundation's website at www.woodforestcharitablefoundation.org.
Celebrating 32 years of service and ranked among the top earning banks in the United States, the Woodforest family of banks currently has assets of approximately $3.7 billion and services more than 1 million customers with branches in excess of 780 throughout 17 states: Texas, Alabama, Florida, Georgia, Illinois, Indiana, Kentucky, Louisiana, Maryland, Mississippi, New York, North Carolina, Ohio, Pennsylvania, South Carolina, Virginia and West Virginia. For information about Woodforest National Bank, please call 832-375-2000 or visit the bank's website at www.woodforest.com.