Woodforest Charitable Foundation donates $500 to Camp Smile-A-Mile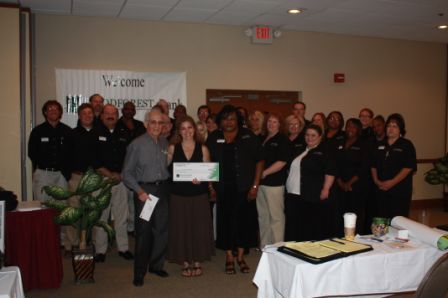 ---
BIRMINGHAM, AL - Woodforest Charitable Foundation recently donated $500 to Camp Smile-A-Mile.
Camp Smile-A-Mile (SAM) is a non-profit organization in Alabama for children who have or have had cancer. Camp SAM's mission is to provide challenging, unforgettable recreational and educational experiences for young cancer patients, their families, as well as young adult survivors at no cost.
With the creation of Camp Smile-A-Mile in 1985, these special children are able to participate in a normal camping environment while remaining under medical supervision. Before Camp SAM, many children were not able to go to a sleepover camp because they were undergoing chemotherapy. Now every child up to age eighteen who is a current or former cancer patient can go to camp.
Camp Smile-A-Mile's campsite is located at Children's Harbor on beautiful Lake Martin. Camp SAM serves more than 400 children and young adults each year. "On behalf of the children of Camp Smile-A-Mile, thank you for your generous donation of $500 which will be used to purchase arts and crafts supplies for our camp sessions," said Lynn Thompson, Executive Director of Camp Smile-A-Mile. "We greatly appreciate Woodforest Charitable Foundation's support of our year round programs and activities for Alabama's children who have or have had cancer."
For more information about Camp Smile-A-Mile, please call 205) 323-8427, e-mail info@campsam.org or visit their website at www.campsam.org.
The Woodforest Charitable Foundation was created by Woodforest National Bank in 2005 as a direct result of its desire to support and invest in the communities in which it serves. The Foundation is creating a legacy of commitment to those in need, enriching lives and communities through dedicated leadership and faithful administration by providing funding to qualifying 501(c)(3) charities. For additional information regarding The Woodforest Charitable Foundation, call (832) 375-CARE (2273) or visit the Foundation's website at www.woodforestcharitablefoundation.org.
Celebrating 30 years of service and ranked among the top earning banks in the United States, the Woodforest family of banks currently has assets of approximately $3.2 billion and services more than 850,000 customers with branches in excess of 750 throughout seventeen states: Texas, Alabama, Florida, Georgia, Illinois, Indiana, Kentucky, Louisiana, Maryland, Mississippi, New York, North Carolina, Ohio, Pennsylvania, South Carolina, Virginia and West Virginia. For information about Woodforest National Bank, please call 832-375-2000 or visit the bank's website at www.woodforest.com.