Woodforest Charitable Foundation donates $1,700 to the Food Bank of North Alabama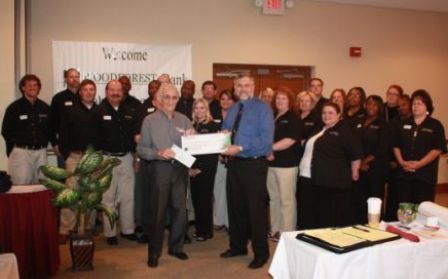 ---
HUNTSVILLE, AL – The Food Bank of North Alabama receives a $1,700 donation from Woodforest Charitable Foundation.
According to a hunger report released by the Food Bank of North Alabama, more than 100,000 people sought emergency food assistance from agencies supplied by the Food Bank in the past year. Woodforest's donation will be directed toward the Food Bank's effort of assisting shelters for the homeless, soup kitchens, emergency food pantries and shelters for abused women and children.
The Food Bank of North Alabama is a regionally based organization proactively committed to finding a solution to help end hunger and poverty in an 11-county region. Since 1985, the Food Bank has been responsible for providing direct food bank support to more than 200 charitable feeding programs in northern Alabama. "We deeply appreciate Woodforest Charitable Foundation's altruistic support of our community effort to keep food moving to the people who need it most," said Richard Hartz, Agency Coordinator, Food Bank of North Alabama. "Every dollar donated to our Food Bank procures over 7 pounds of food. The Foundation's generous donation will allow us to provide food for almost 10,000 meals."
For more information about the Food Bank of North Alabama, please call (256) 539-2256, send an e-mail to dhiatt@hiwaay.net or visit www.alfoodbanks.org.
The Woodforest Charitable Foundation was created by Woodforest National Bank in 2005 as a direct result of its desire to support and invest in the communities in which it serves. The Foundation is creating a legacy of commitment to those in need, enriching lives and communities through dedicated leadership and faithful administration by providing funding to qualifying 501(c)(3) charities. For additional information regarding The Woodforest Charitable Foundation, call (832) 375-CARE (2273) or visit the Foundation's website at www.woodforestcharitablefoundation.org.
Celebrating 30 years of service and ranked among the top earning banks in the United States, the Woodforest family of banks currently has assets of approximately $3.2 billion and services more than 850,000 customers with branches in excess of 750 throughout seventeen states: Texas, Alabama, Florida, Georgia, Illinois, Indiana, Kentucky, Louisiana, Maryland, Mississippi, New York, North Carolina, Ohio, Pennsylvania, South Carolina, Virginia and West Virginia. For information about Woodforest National Bank, please call 832-375-2000 or visit the bank's website at www.woodforest.com.